Jacob Zuma middle finger: 'Police should apologise'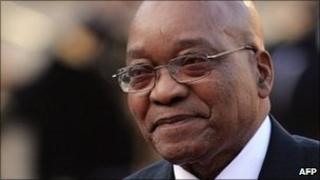 South Africa's police minister has been told to apologise to a man arrested for allegedly raising his middle finger to President Jacob Zuma.
The South Africa Human Rights Commission (SAHRC) ruled that several of Chumani Maxwele's rights had been violated during his arrest last year.
There is no law against giving a "one-fingered salute" in public - even at the president, lawyers say.
But Police Minister Nathi Mthethwa will not apologise, his spokesman said.
He said that could "pre-judge" a lawsuit Mr Maxwele had filed, claiming damages worth 1.45 million rand ($215,00; £134,00) for wrongful arrest.
The arrest caused a stir at the time - the police were accused of over-reacting.
The student from Cape Town was detained for 24 hours after he allegedly gestured with his middle finger at President Zuma's motorcade in February last year.
He was charged with crimen injuria and resisting arrest - the charges were later dropped after he wrote a letter of apology.
The FW de Klerk Foundation subsequently laid a complaint with the SAHRC on Mr Maxwele's behalf.
The foundation claimed that Mr Zuma's security had bundled him into one of their cars, placed a bag over his head and forced him to write the letter.
It also alleged that the president's guards had searched Mr Maxwele's house without a warrant and interrogated him on his political affiliations.
The SAHRC said Mr Zuma's protection unit had violated Mr Maxwele's rights to human dignity, freedom and privacy.
It criticised the police minister for not co-operating with its probe into the civil case.
President Zuma has not commented on the matter.