Senegal profile - Leaders
5 November 2014

From the section

Africa
President: Macky Sall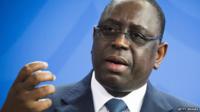 Macky Sall won presidential elections in March 2012, replacing President Abdoulaye Wade, who controversially ran for a third term in office.
A former close associate of his predecessor, Mr Sall broke away in 2008 to form his own opposition party. He challenged Mr Wade for the presidency in March 2012, beating him in the second round after winning the support of other opposition parties.
Mr Sall's coalition won a landslide majority in legislative elections four months after he was elected, which some observers saw as evidence of the extent of dissatisfaction in Senegal with the previous regime, which was accused of rampant corruption.
On coming to power, he appointed former banker Abdoul Mbaye as prime minister at the head of a government that included world-renowned singer Youssou Ndour as tourism minister.
But Mr Sall dismissed Mr Mbaye only just over a year later, without explanation, and appointed Aminata Toure - a former justice minister - to replace him.
A geological engineer born in 1961, Mr Sall served as prime minister then speaker of parliament under President Wade, until they came into conflict over the political role of Mr Wade's son Karim. President Wade forced Mr Sall out of the Democratic Party and his post as speaker.
Mr Sall returned to his political base in the town of Fatick, where he was re-elected mayor and built up support for his eventually successful presidential bid.
Mr Sall favours cutting the presidential term from seven years to five and limiting the number of consecutive terms a president can serve to two. This pledge helped to win him the endorsement of other candidates in the run-off against President Wade.
Senegal has a lively political scene, with parties competing across ethnic, religious and ideological lines.