Nigeria army claims 11 Boko Haram deaths in Maiduguri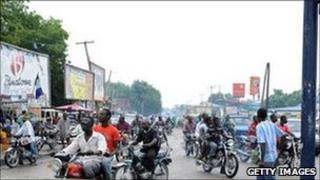 The Nigerian army says it has killed 11 Islamic militants in the troubled north-eastern city of Maiduguri.
An army patrol had come under attack from Boko Haram fighters, who want to establish an Islamic state in the north, said an army statement.
Witnesses told the BBC the soldiers had set homes on fire and killed civilians.
The head of a military taskforce in the city denied that his men had burnt the houses and refused to comment on allegations of civilians deaths.
'Homes burned'
The statement from a military taskforce in Maiduguri said an army patrol had been targeted by an explosion and gunshots from a stationary bus on Saturday evening.
The attack was successfully repelled in fighting that killed 11 Boko Haram militants and injured two soldiers, it said.
Twice in the short statement, mention was made of residents allowing their homes and shops to be used by the Islamists, and a warning made of the implications of collaboration.
On Sunday morning, witnesses told the BBC that the patrol had responded to coming under fire by dragging men out of their homes and shooting them on the spot.
Homes were burned down by the military, witnesses added, and the people who had lived there told to leave for good.
When contacted by the BBC, the head of the taskforce refused to comment on the allegations and said it was the the militants' improvised explosive device that had led to the homes catching fire.
Boko Haram has been fighting for Islamic rule in northern Nigeria.
Over the past two weeks, at least 40 people have been killed in Maiduguri, the main city in Borno state, in attacks blamed on the group.
Last month, Boko Haram said it had carried out an attack on the headquarters of the Nigerian police in the capital, Abuja, which killed at least six people.