Togo profile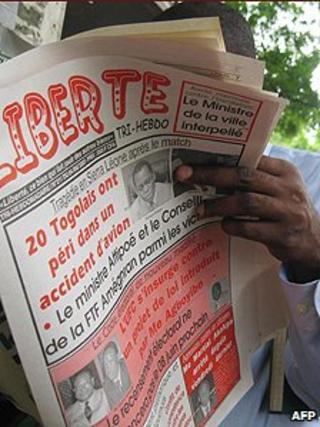 Private media have proliferated; there are dozens of commercial and community radios and weekly newspapers, as well as a handful of private TV stations.
However, many private media firms have shaky finances and lag behind state-owned rivals in attracting advertising revenue.
Radio is the most popular medium, particularly in rural areas. The main TV station is government-owned Television Togolaise. The government also operates Togo-Presse daily.
While press freedom is legally guaranteed, this is often ignored by the government, US-based Freedom House reports. Impunity for crimes against journalists has created a "tense and illiberal" media environment, the NGO adds.
The BBC broadcasts in the capital on 97.5 FM. Also on air in Lome is Gabon's Africa No 1. Radio France Internationale broadcasts on FM in Lome and Kara.
There were 356,000 internet users by June 2010 (Internetworldstats).
The press
Television
Radio
News agency/internet