Ghana's Nana Rawlings fails in NDC bid for presidency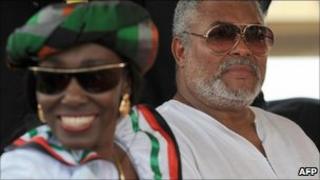 The wife of Ghana's ex-leader Jerry Rawlings has failed in her bid to be the ruling party's presidential candidate in next year's election.
Nana Konadu Rawlings won only 3.1% of the vote, at a convention of the National Democratic Congress (NDC) party in the western town of Sunyani.
The party reconfirmed President John Atta Mills as its flagbearer.
Analysts say Mrs Rawlings' candidature showed a desire by her husband to wield greater influence in the party.
The BBC's David Amanor in the capital, Accra, says Mrs Rawlings made a swift exit from the conference hall after her defeat.
Her supporters blamed a narrow electoral college and few women delegates for her defeat, our reporter says.
During campaigning, she said she was challenging Mr Atta Mills to "save and salvage" the NDC.
'Heal divisions'
Analysts say her candidacy showed deep divisions in the ruling party and had caused a stir because Mr Rawlings and Mr Mills were once staunch allies.
In his victory speech, Mr Mills promised to heal divisions caused by the contest.
"We need to know we belong to one party," he said.
It was the first time since Ghana returned to democracy in 1992, when presidential two-term limits were introduced, that a sitting head of state has been challenged as party leader in the first term of office.
Mr Atta Mills, who took office in January 2009, had served as vice-president to Mr Rawlings for four years.
Mr Rawlings seized power in military coups in 1979 and 1981, before serving as elected president from 1993 to 2001.