Algeria profile
29 January 2013

From the section

Africa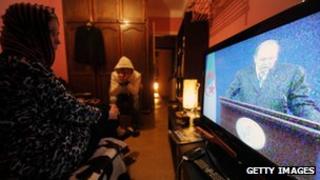 TV and radio stations broadcasting from Algerian soil are state-controlled, but privately-owned networks transmit from abroad via satellite.
TV stations based in France target viewers in Algeria, and European channels are widely-watched.
A media bill passed in late 2011 aims to open the broadcasting sector to private operators. While promising press freedom, it requires journalists not to undermine national identity, sovereignty and security.
There is a lively private press. However, journalists and newspapers "are often subjected to financial, judicial, physical or psychological harassment or encounter technical difficulties with printing and distribution", Reporters Without Borders said in 2012.
There were 5.2 million internet users by June 2012 (InternetWorldStats.com). Most surfers rely on dial-up connections and cyber cafes. No widespread filtering is reported.
Writing in Arabic, English and French, Algerian bloggers cover social, cultural and political topics.
The press
El Khabar - private, Arabic daily; website has pages in Arabic, French and English
Ech Chourouk - private, Arabic daily; website has English-language pages
Le Quotidien d'Oran - private, French-language daily
El Moudjahid - state-run, French-language daily; website has English-language pages
Ech Chaab - state-run, Arabic daily
El Watan - private, French language daily
Le Soir d'Algerie - private, French-language daily
Liberte - private, French-language
La Tribune - private, French-language
Algerian Press Portal - press directory
Television
Enterprise Nationale de Television (ENTV) - state-run
Echourouk TV - private, via satellite
Ennahar TV - private, via satellite
BRTV - Berber, via satellite from France
Beur TV - private, via satellite from France
Radio
Algerian Radio - operated by state-run Radio-Television Algerienne, runs national Arabic, Berber and French networks and several local stations
News agencies
Algerian Press Service (APS) - state-run