Somali militants recruit children, rights group says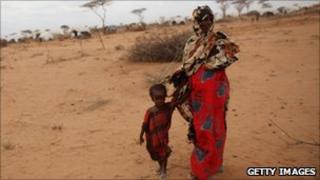 Amnesty International has said children in Somalia are being systematically recruited as soldiers by armed groups.
It says most child soldiers are used by the Islamist group al-Shabab, but says the transitional government also has children in its ranks.
The conflict between the army and extremists is one of the reasons given by Somalis who have fled their country, in addition to the deepening drought.
Parts of Somalia are to be declared a famine due to the worsening situation.
More than 10m people in east Africa have been affected by the crisis so far, despite an emergency appeal by aid organisations.
'Flogging'
Drawing on interviews from over 200 Somalis who have left the country, Amnesty International says the recruitment of children into armed groups is rife.
The majority of the children are aged between 10 and 17 but some are as young as eight.
It says the methods used by the Islamist extremist group al-Shabab range from luring children with promises of mobile phones and money to abductions and raids on schools.
The report says children have been used on the frontline to fight, but also in other roles such as flogging women and girls to force them to follow al-Shabab's strict rules regarding dress.
The humanitarian emergency is particularly acute in the areas controlled by al-Shabab, and Amnesty says this has made children even more vulnerable to being recruited into the groups, as they and their families take desperate measures to feed themselves.
The report argues that the failure to tackle such violations of international law affecting large numbers of children and young people in Somalia contrasts sharply with the resources devoted to the fight against piracy off the country's coastline.