Ivory Coast inquiry investigates post-election violence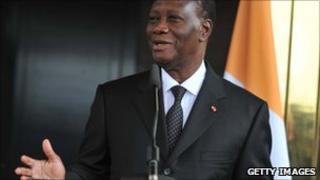 President Alassane Ouattara has signed into law a commission to investigate Ivory Coast's post-election violence.
The council of ministers released a statement in the capital Yamoussoukro on Wednesday promising to get to the bottom of the crises.
Following last year's election, a power struggle between Mr Ouattara and former President Laurent Gbagbo rekindled the country's civil war.
About 3,000 people were killed and one million displaced in the violence.
Truth and Reconciliation
President Ouattara had promised to establish an inquiry similar to South Africa's Truth and Reconciliation Commission.
In a meeting in Yamoussoukro, the council of ministers stated that the commission would "help understand how and why people were able to conceive, plan and execute such grave violations of human rights".
Mr Gbagbo refused to accept defeat in the November 2010 presidential election.
The international Criminal Court has been carrying out preliminary research, and it may soon order an investigation in to the crimes committed during the violence.
Supporters of Mr Gbagbo complain that not a single member of Mr Ouattara's camp has been arrested.