Libya air strike aftermath questions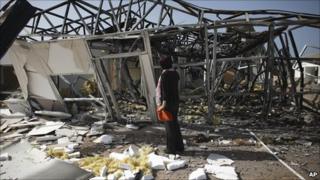 Late into the night in Tripoli, we often hear Nato air strikes - the distinct boom of the explosions is enough to wake everyone up. But we don't always know what was hit.
Nato sometimes takes more than a day to announce the results of its strikes.
The Libyan government has not taken us to any sites recently hit in the capital. This suggests to some that Nato has struck some valuable targets.
But on Monday morning, the government decided that it wanted to show foreign journalists the results of three particular Nato air strikes outside Tripoli.
We were driven two hours along the coast to the city of Zlitan - not far from the front line near rebel-held Misrata.
The coastal road shows some of the most obvious signs of war. By the side of the motorway, we saw long queues of cars waiting for petrol - some of the lines stretched for several hundred metres.
Cars in some places appeared to be abandoned.
'People trapped'
We arrived in Zlitan and were taken to a compound of four huge warehouses. One of the buildings was on fire - part of its ceiling had been blown away in an overnight air strike.
Libyan officials insisted that the warehouse contained nothing but bags of flour.
But Nato says this is not the case. It denies that it hit any civilian targets in Zlitan. It says that its most recent air strikes in the area were aimed at military targets, including what it describes as a command and control node and a vehicle storage facility.
Libyan officials pressed ahead with their tour. They took us to a second bomb site. They told us that it was a lung disease clinic.
We saw pieces of medical equipment on top of the wreckage - including fresh notepaper, an old microscope, and what appeared to be public health leaflets and pages of medical notes.
Officials told us that the air strike happened at seven in the morning and killed 7 people. But we were not able to find out the names of the dead. Nor were we taken to hospital to see their bodies.
"All the people here were doctors and nurses," said Atia Ali, a local resident.
Khaled Mohammed, wearing a blue shirt with dried blood stains, told me that he arrived shortly after the air strike happened.
"Injured people... nurses down... blood," he noted through a government interpreter.
Officials told us that three people were still trapped underneath the wreckage. We were unable to get a clear idea as to whether or not the officials believed that the missing people were alive or dead.
Bulldozing wreckage
The few minutes of the rescue effort that we were able to see differed from those that I have seen in other parts of the world.
Bulldozers drove through the wreckage without appearing to check whether or not they were coming up against any bodies or survivors.
In the short time that we were there, we did not come across the distinctive smell of dead bodies decomposing in the heat. Nor did we see rescuers stop and listen for shouts from any survivors in the wreckage.
A short time later we were taken to a third bomb site. Officials told us that this site contained both a school and a mosque.
We saw a number of school exercise books on the ground amid the rubble. School desks were in another set of buildings which largely survived.
A small group of Gaddafi supporters gathered around us. They stood on top of the rubble and cheered. We heard loud explosions coming from the frontline not far away from us.
The Gaddafi supporters watched the smoke rise from the horizon. They cheered some more.