Nigeria army accused of killings in Maiduguri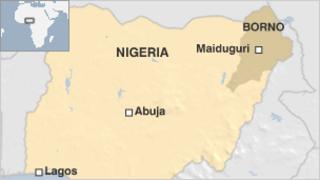 Amnesty International has accused Nigeria's security forces of killing 23 people in the northern city of Maiduguri.
It said the security forces had opened fire, apparently randomly, on Saturday after a bomb exploded in the city.
Maiduguri is a stronghold of the militant Islamist group Boko Haram, which has carried out a wave of bombings in Nigeria.
A military spokesman dismissed the allegation as "outright lies".
Amnesty International said President Goodluck Jonathan should launch an inquiry into the shootings.
"The Nigerian authorities must immediately put a stop to unlawful killings by the security forces," it said.
It also accused soldiers of burning a market.
'Residents scared of army'
Army spokesman Lt Col Hassan Isijeh Mohammed denied the allegation.
"The fire that burnt homes, shops and vehicles was caused by the impact of the explosion of the bomb detonated by the Boko Haram attackers," he is quoted by the AFP news agency as saying.
The blast killed at least three security officers, reports say.
The BBC's Jonah Fisher in the commercial capital, Lagos, says this is not the first time the security forces have been accused of randomly killing civilians during operations against Boko Haram.
Many residents of Maiduguri, the capital of Borno state, are now more scared of the army than they are of Boko Haram, he says.
Earlier this month, Borno state Governor Kashim Shettima admitted that the army had been guilty of excesses in the city.
Rules of engagement would be issued to the military, he said.
Thousands of people have fled Maiduguri to avoid being caught up in the conflict.
Last month, Boko Haram bombed the police headquarters in Abuja, killing at least six people.