South Africa agrees to Swaziland financial bailout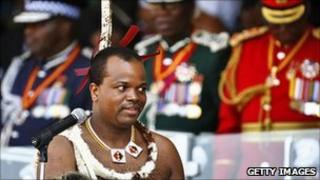 South Africa has agreed a 2.4bn rand ($355m; £218m) loan to help Swaziland cope with a cash crisis.
However, South Africa is insisting on both political and economic reforms in its tiny neighbour.
Swaziland has been rocked by recent protests after civil servants said they had not been paid.
King Mswati III, Africa's last absolute monarch, has been accused of living in luxury with his 13 wives, while most of his people languish in poverty.
There have also been reports that the country, which has the world's highest rate of HIV infection, is running low on supplies of antiretroviral drugs, the only effective way to treat the virus.
South Africa's opposition had called for the government to reject the loan request because Swaziland was an "undemocratic state".
The finance ministry said Swaziland would have to implement reforms approved by the International Monetary Fund (IMF) to qualify for the loan.
"While the need for fiscal reforms is the primary objective, this has to be anchored by governance reforms," it said in a statement.
It went on to say that moves to promote "democracy, human rights and good governance, credible and effective leadership, development of a strong civil society and respect for universal human rights and the rule of law" would now be given added impetus.
'Good neighbours'
South Africa's Press Association says the amount is just a quarter of the amount requested by Swaziland.
King Mswati had earlier hailed the agreement in Ludzidzini Royal Homestead, near the capital Mbabane, upon his return from South Africa.
"We are thankful and also appreciate the assistance we have received from South Africa. This shows that they are good neighbours," the Times of Swaziland reported him as saying.
He had approached a number of institutions, including the IMF, asking for cash but to no avail.
South African officials have said that assisting Swaziland would help bring stability to that country and the region.
Swaziland is part of the South Africa-dominated Southern African Customs Union (Sacu) and its currency, the lilangeni, is pegged to the rand.
Its financial crisis was partly caused by a sharp decline in income from Sacu.
Observers will be keen to see that the money is put to good use and not used to benefit the king as some have warned, says the BBC's Pumza Fihlani.
The financial crisis has sparked a series of demonstrations demanding reforms, including the ending of a ban on political parties.