Behind the face of famine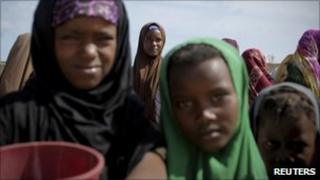 As the famine spreads across Somalia, aid agencies are frantically trying to work out the implications of America's new "flexibility" when it comes to allowing its dollars and aid to enter famine-stricken regions controlled by the Islamist group al-Shabab.
For some groups it may mean more money. But how quickly? With what strings attached? Who is first in line? And is there a risk that by accepting American funding aid organisations could jeopardise their own access to al-Shabab regions?
An aid worker anxiously waiting for clarification privately warned me it is all "coming too late" and on too small a scale.
These are stressful times for all those trying to help Somalia - but I have been struck by the competitive, occasionally poisonous atmosphere between some aid organisations - particularly within the United Nations.
I hear one boss got a private dressing-down by a visiting minister for seeming more preoccupied with "branding" than with saving lives.
There is a strong article in the Spectator that sets the famine in a proper historical context - and points the finger of blame firmly at man, not nature.
The ban imposed by al-Shabab on some foreign aid organisations continues to hog a lot of the headlines - with some justification.
But there is an important report here that gives more context and emphasises, as I have tried to do recently, how many groups - the International Committee of the Red Cross is a quiet, impressive example - are succeeding in reaching the starving, despite the many obstacles Somalia throws in their way.
Private pragmatism
Speaking of obstacles - foreign journalists have also struggled to get access to the truth of what is happening in al-Shabab territory.
We finally managed to arrange for a Somali colleague to film for us in Baidoa and in K50 - an area south of Mogadishu - and to get the material back to the capital.
As well as showing some clearly hungry people, the footage also reveals al-Shabab's desire to show the outside world that it has the situation under control.
It is interesting, and perhaps significant, that they care about their image at all.
It is hard to tell how much of that is propaganda, or lies - or the mixed messages the militants so often deliver - but the drought is clearly putting them under pressure, hence the emerging contrast between their public anti-Western rhetoric and occasional private pragmatism.
But it is not just in al-Shabab territory that the facts can be messy and political.
At the very end of our television report above, I included footage of a skeletal boy being propped up by a woman.
I have since learned that the child is almost certainly suffering from a neurological disorder.
He also appears to be severely malnourished, but there is always a danger that the cameras get drawn to the "most powerful" images and do not necessarily reflect wider truths.
I am in no way trying to deny the reality and misery of Somalia's famine, but I am wary about every single figure and statistic that emerges from a country that has such long, wretched experience in needing, receiving, losing out on, and abusing outside help.