Tripoli power cuts anger Libyans in Gaddafi stronghold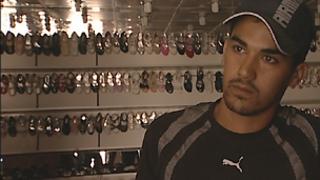 After months of war, rolling blackouts and rising prices in the Libyan capital Tripoli are taking their toll on Col Muammar Gaddafi's seat of power.
Bang on time, just as Mourad is complaining about the power cuts, the lights go out.
An entire ceiling of far-too-bright white fluorescent bulbs goes dark. The shiny handbags and women's shoes in the shop instantly lose their sparkle. The computer system used to keep track of the store's merchandise and accounts shuts down.
"It has been like this for the last two days," explains Mourad, a 23-year-old shop assistant.
"The power comes on for four or five hours. Then it is off again."
Outside it is slowly beginning to cool down, after another scorching day of 40C (104F). No power means no air-conditioning for many. And it is Ramadan, the Muslim month of fasting.
By day in Tripoli, there is little obvious sign of the war, certainly on the short and tightly-controlled trips the government takes international journalists on.
Pointing fingers
By night, though, parts of the city are plunged into darkness. It is hard to gauge precisely how many people are affected by the power shortages, but anecdotal evidence suggests it is a lot of the population. And there is growing frustration.
The Libyan prime minister and his staff, however, do not yet have a problem with what you might call Tripoli's "power vacuum".
In his offices in the capital, al-Baghdadi al-Mahmoudi sits wearing a light grey suit and an open neck blue shirt, joshing with reporters. The air conditioning keeps the room cool.
"Someone is chewing gum here. It is forbidden during Ramadan," he smiles. The room stays silent.
"It's a joke," he adds.
The government denies the power cuts have been turning the population against Libya's leadership.
"If there were protests, it would not be unusual, because of these shortages," Mr Mahmoudi says. "But they are not against the government. Libyans are able to hold firm."
"Our excellent technicians will be able to fix this soon."
The government blames both the rebels and Nato for the shortages.
The rebels - we are told - have attacked pipelines. Nato is accused of targeting the electricity supply network.
A Nato official - in an emailed statement - insisted the organisation had never targeted Libya's electrical power lines.
"There is no evidence to suggest that, if the country's power lines have been damaged, such an event could be linked to a Nato strike," said the official.
Rising prices
It does appear, though, that the war - and sanctions - are taking their toll on the capital.
Before the war started, a gas canister cost about 3 Libyan dinars (£1.50; $2.40) - now it is around 20 times that.
Drive along the sweltering, bumpy coastal road from Tripoli towards Tunisia, and outside any petrol station with supplies there is a long line of vehicles - their owners hoping to fill at least some of the tank.
At the markets that spring up under Tripoli's freeway interchanges, there is still plenty of fruit and vegetables, but imports are going up in price.
In his menswear shop, Ibrahim Zalitny shrugs off the problems. "Business, today, is good," he says. "But it comes and goes."
Press him on the cost of living though and there is the glimmer of a complaint.
"A can of coke used to cost half a dinar - now it is one dinar. And fruit and veg is going up too."
Some blame Nato; others - quietly - Libya's leaders.
The war is beginning to affect daily life in the capital in a way that it has not up to now.