Ivory Coast conflict: UN says 26 executed in a month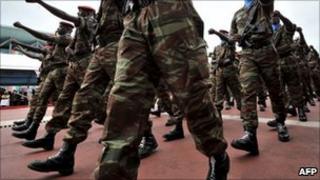 The United Nations peacekeeping mission in Ivory Coast says that 26 people have been executed in the last month.
It says the killings have been carried out principally by armed forces who helped the new President, Alassane Ouattara, take power.
The report came as Ivory Coast officials said they had charged 62 former army officers.
Mr Ouattara has been president since April when his forces arrested former President Laurent Gbagbo.
Mr Gbagbo is now under house arrest in the north of the country. Some alleged killings were blamed on his allies.
The rights representative for the UN mission in Ivory Coast, Guillaume Ngefa, said there had been 26 cases of "extrajudicial execution, summary or arbitrary" and "85 cases of arbitrary arrest and illegal detention".
The killings were reported between 11 July and 10 August of this year, he said, adding that locals and victims identified most of the perpetrators as men belonging to the Republican Forces of Ivory Coast.
These soldiers, backed by UN and French troops, helped Mr Ouattara take power in May after a dispute with Mr Gbagbo, who refused to step down after losing elections in November.
'Climate of fear'
At least 3,000 people were killed in the four-month conflict that followed.
In July, human rights group Amnesty International said a "climate of fear" was preventing hundreds of thousands of refugees from returning to their homes, and called on the government to do more to control the former rebels and traditional hunters who helped them come to power.
The recent killings took place in the south and west, where tensions remain in areas inhabited by ethnic groups seen as loyal to the former president.
The government says anyone responsible for killings on either side will be brought to justice.
Ivory Coast's military prosecutor Ange Kessi told Agence France Presse that among the 62 charged over the post-election violence on Thursday was Brunot Dogbo Ble, the former commander of the feared Republican Guard.
Those detained and charged are accused of illegal arrest, murder, concealing corpses, rape, theft, insubordination, arbitrary detention, embezzlement and recruiting mercenaries.
On Wednesday, 12 allies of Mr Gbagbo, including his son Michel, were charged with taking part in an armed insurrection and attempting to undermine the state in the world's largest cocoa producer.
The BBC's John James, in Abidjan, says the reports of killings are a sign that life is not yet back to normal in a country struggling to recover from civil war.
The UN peacekeeping mission also announced the discovery of eight more mass graves in the Yopougon district of Abidjan, scene of the fiercest fighting during the battle for control of the city.
Security there has improved rapidly since the end of fighting in May, but the new authorities have not yet fulfilled promises to send all soldiers back into their barracks.
Mr Ouattara has always insisted that those on both sides of the political divide would face justice if they committed crimes during the five-month dispute.
So far, none of his supporters have been arrested or charged, even though human rights groups have accused some of them of killing people suspected of backing Mr Gbagbo.