Cameroon: Call to end 'feminine men' homosexual trial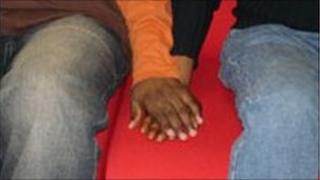 Human rights groups have called for homosexuality charges to be dropped against two men in Cameroon who were denied bail on Thursday.
The men were arrested last month because they looked feminine, their lawyer Alice Nkom told the BBC.
Amnesty International and Human Rights Watch said the men should be freed from prison, rather than put on trial.
Homosexuality is illegal in Cameroon and carries a jail sentence of up to five years.
Police said the men - aged 19 and 20 - were caught having oral sex in a car after visiting a nightclub in the capital, Yaounde.
Ms Nkom disputed this, saying police accused them of homosexuality because their hair was "dressed like women".
'Beaten up'
"This is a crime of fashion, not homosexuality," Ms Nkom told the BBC's Network Africa programme.
"I don't know how the prosecutor will bring evidence that they are homosexuals."
The BBC's Randy Joe Sa'ah in Yaounde says the men looked healthy and calm in court.
Their bail application was refused and are to remain in custody at the Kondengui maximum security prison in Yaounde until the case resumes on Monday.
The mother of one of the accused told the BBC she had been stigmatised in her neighbourhood since her son's arrest.
Homophobia is widespread in Cameroon, like in most African countries, analysts say.
Human Rights Watch spokesperson Dipika Nath said Cameroon was sending a "frightening message" that people could be "tortured and jailed just because of the way they look".
Amnesty's Africa programme director Erwin van der Borght said the homosexuality law was draconian and discriminatory and should be scrapped.
"By arresting people purely because of their alleged sexual orientation, the Cameroonian government is flagrantly violating international human rights treaties which it has signed or ratified," he said.
Ms Nkom said the men were pleading not guilty despite a confession to police that they were homosexuals.
They made the confession because they were beaten up and jailed, she said.
"You never have a fair trial in Cameroon concerning homosexuality," she said.
"Sometimes they [the authorities] send a doctor to check your anus. This is humiliation and an act of torture."
In March, a Cameroonian man, Jean-Claude Roger Mbede, was jailed for three years for homosexuality.
It regarded him as a prisoner of conscience, Amnesty said.