Suspected Islamists shoot dead policemen in Nigeria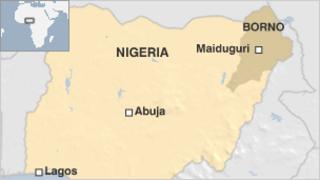 Suspected Islamists have killed three police officers and a civilian in north-eastern Nigeria, officials say.
They say gunmen burst into the house of one of the policemen who was watching TV with his friends in the city of Maiduguri and shot everyone dead.
No group has so far claimed responsibility for the shootings.
But police blame the attack on Boko Haram, a sect that has carried out a series of attacks against security forces, local leaders and clerics.
The gunmen fled the scene after Friday's shootings.
Earlier in the week, police said they killed a man who tried to carry out a car bomb attack on the police headquarters in the city.
Thousands of people have fled the area in recent weeks as fighting between soldiers and sect members around Maiduguri, Borno state, has intensified.
The group, whose name roughly translates as "Western education is forbidden", is fighting to topple the government and create an Islamic state.