DR Congo tin 'smuggled' by UN man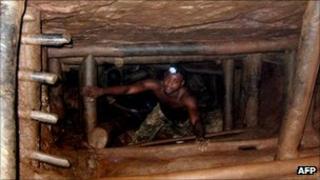 A UN employee in the Democratic Republic Congo has been arrested for trying to smuggle more than a tonne of tin ore into Rwanda, officials say.
He was found in his UN vehicle with 24 packages each containing 50kg of cassiterite, said DR Congo Information Minister Lambert Mende.
The UN peacekeeping mission, known as Monusco, has confirmed that one of its local employees has been detained.
There are some 22,000 UN troops in DR Congo following years of conflict.
Armed groups continue to operate in parts of the east - some are funded by the trade in the country's rich minerals.
In March, the government lifted a six-month ban on mining in eastern DR Congo, imposed in a bid to stop the illegal trade.
The US has also passed a law obliging electronics manufacturers to ensure they are not buying minerals which come from conflict areas.