Nigeria police stations and banks attacked in Adamawa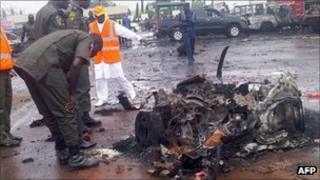 At least 12 people have been killed in attacks on two banks and two police stations in the northern Nigerian town of Gombi in Adamawa state.
Local officials said they suspected the radical Islamist sect Boko Haram carried out the attacks on Thursday.
Policemen, bank staff and customers were killed, while the attackers escaped with weapons and money, reports say.
Boko Haram, formed in 2002, is fighting for Islamic rule in Nigeria.
A resident of Gombi, Husseini Abdurrazak, said he saw gunmen storm a police station and escape with weapons, before robbing a bank, the AFP news agency reports.
"They were chanting 'Allahu Akbar' and our suspicion is they may be members of Boko Haram or just armed robbers hiding under that cover," he said.
Negotiations
The BBC's Abdullahi Kaura Abubakar in Kaduna says local authorities strongly suspect the gunmen belonged to Boko Haram.
The group is notorious for attacking police stations and banks in northern Nigeria to sustain its operations, our reporter says.
Two years ago, Nigeria's security forces brutally suppressed an uprising by the sect, destroying its compound in Maiduguri - the capital of Borno state - and then capturing and killing its leader Mohammed Yusuf.
Instead of disappearing, the group re-emerged last September and vowed to avenge its leader's death.
In June, Boko Haram said it had carried out an attack on the headquarters of the Nigerian police in Abuja, which killed at least six people.
In response, the security forces launched another crackdown on the group while President Goodluck Jonathan has appointed a committee to look into opening negotiations with its leaders.