Libya conflict: UN chief Ban urges stable transition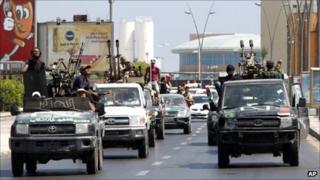 UN chief Ban Ki-moon has called for the international community to work together to restore order in Libya and for fighting to end.
Mr Ban said the crisis had entered a "new and decisive phase" and said the emphasis must now be on ensuring there was a smooth transition of leadership.
Rebels say they have almost complete control of Tripoli, while fighting continues in the east.
There are widespread shortages of fuel, food and medical supplies.
Correspondents in Tripoli, the capital, say there has been some fighting, mainly in and around the international airport, but say the city centre is mostly quiet.
On Friday, many people went to mosques across the capital for the first Friday prayers since rebels took the city.
The city is suffering from widespread power cuts and almost no running water, but some police are returning to the streets and shops are starting to re-open.
'Thick with blood'
Speaking after a UN meeting in New York, Mr Ban said there was an "urgent need to put an end to the conflict and restore order and stability".
"Most immediately, we have asked for urgent humanitarian assistance, particularly as it relates to medical aid and basic public services, including water and sanitation and education.
"Somewhat longer-term, they have placed special emphasis on early support for elections, transitional justice and policing, as well as assistance in social-economic recovery, rule of law and institution-building," he said.
The UN chief also urged better relations between Libya's National Transitional Council (NTC) and the African Union, which has so far refused to recognise them as the legitimate government.
Mr Ban said the international community should also be prepared to support Libyan police capacity, "bearing in mind that the country is awash with small arms".
In recent days, there has been an increase of reports of human rights abuses in and around Tripoli, as fighting has subsided in parts.
On Friday, more than 200 decomposing bodies were found abandoned at a hospital in the Abu Salim district, following recent fighting there.
Correspondents say doctors and nurses had fled the hospital days before because of fighting. It was unclear when the victims had died or who killed them.
The BBC's John Simpson, who visited the hospital, said the scene defied the imagination, with a strong stench of death, and the floors thick with blood.
Human rights group Amnesty International earlier said it had evidence that both pro-Gaddafi forces and the rebels had abused detainees.
Guards loyal to Col Gaddafi raped child detainees at Abu Salim prison, Amnesty said. It also accused rebels of beating prisoners, including a boy conscripted by Gaddafi forces who surrendered to the rebels at Bir Tirfas.
The UN is to investigate reports of summary killings and torture through its existing commission of inquiry on Libya. It has previously said some reports could amount to war crimes or crimes against humanity.
Advance on Sirte
Outside of Tripoli, rebel forces are facing stiff resistance as they advance on Sirte, Col Gaddafi's birthplace and the town regarded as his last stronghold.
Rebel commanders said they were consolidating their frontline at the oil port town of Ras Lanuf, after withdrawing from positions nearer Sirte to put themselves out of range of rockets fired by pro-Gaddafi forces.
In the west, Libyan rebels have taken control of the main border crossing between the two countries, AP cited Tunisia's official news agency as reporting.
Meanwhile, the rebel commander in Tripoli, Abdel Hakim Belhaj, has announced that all disparate rebel groups will be brought under one command following an interim period, Reuters reports.
There has been concern expressed about the possibility of fragmentation of rebel forces following the toppling of Gaddafi.
The rebels' NTC have said half of their leaders have now made the move from the eastern city of Benghazi to Tripoli, where they are planning to form a government.
Rebels enter Green Square
Jubilant rebel fighters pushed their way into the heart of Tripoli on Sunday.
Rebels destroy Gaddafi compound
Colonel Gaddafi's compound is now under the control of the rebels after fierce resistance from pro-Gaddafi forces.