Malema ANC hearing stays in Johannesburg after clashes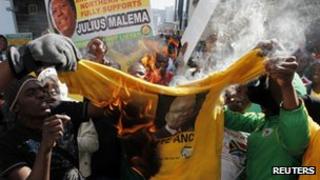 South Africa's ruling ANC has said the disciplinary hearing of youth leader Julius Malema will continue at its headquarters despite Tuesday's clashes.
Thousands of Mr Malema's supporters had protested outside the Johannesburg building, throwing stones at police who responded with stun grenades.
Mr Malema, who is seen as an obstacle to President Jacob Zuma, is accused of bringing the party into disrepute.
He has urged his supporters gathered in the city to show restraint.
Thousands of them spent most of Tuesday outside Luthuli House, chanting, setting fire to rubbish, burning the party flag and images of Mr Zuma, and throwing stones at police.
One police officer and several journalists were injured in the clashes.
The ANC had said the hearing would be moved to a secret location to avoid further violence.
But on Wednesday, spokesman Jackson Mthembu told reporters: "The hearing will continue in the city today, but if what we saw yesterday continues, then it will move to the location we spoke about yesterday."
'Exercise restraint'
Mr Malema, 30, is a fierce critic of Mr Zuma and has long been a controversial figure, but he also brings some 350,000 voters to the ANC through the Youth League.
He is accused of "sowing divisions" in the party and bringing it into disrepute by calling for Botswana's government to be overthrown. If the hearing finds against him, he could be expelled from the party.
Five other ANC Youth League officials face the same charges.
Mr Malema, who is also under a separate investigation for alleged fraud and corruption, says he will accept the committee's ruling.
He left Luthuli House briefly on Tuesday to call for calm and to criticise the burning of ANC flags by some protesters.
"You are here because you love the ANC. We must exercise restraint," he told supporters. "We cannot burn ourselves."
The closed-door disciplinary hearing, which could go on for several days, sets the scene for the party's leadership contest next year.
The BBC's Karen Allen says Mr Malema is seen as an impediment to Mr Zuma's bid for re-election, with his firebrand style making the president appear weak.
However, veterans of the ANC's struggle against apartheid have said they will not allow the country to slip into what they called "the dark days of war", says our correspondent - a signal that the party may be preparing to clamp down hard on Mr Malema.