Libya media: Gaddafi mouthpieces fall silent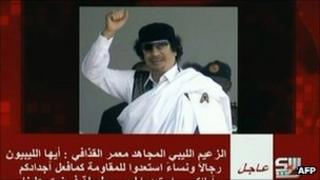 For Colonel Muammar Gaddafi, the loss of Tripoli also meant that he lost his media outlets - a main driver of his personality cult and his authoritarian rule up until a week ago.
An extensive media group of dozens of domestic and satellite radio and TV channels, newspapers and magazines vanished, leaving Col Gaddafi with severely limited choices.
After National Transitional Council (NTC) forces went into Tripoli on 21 August, dozens of Col Gaddafi's TV and radio stations swiftly went off the air and the publication of state press ceased.
Some media workers were arrested and paraded on YouTube videos.
Flying new flag
Since the fall of Tripoli, Col Gaddafi has not appeared on television in person. Instead, his audio statements have been broadcast by two TV channels, one of which is believed to be based in Syria. In other developments:
Al-Jamahiriyah TV, a domestic and satellite station that aired his speeches live, now shows the NTC's tri-colour flag over the sound of Radio Tripoli, a new rebel-affiliated station.
Former youth station Al-Shababiyah FM has been re-launched under a new name: Al-Shababiyah 17 February FM.
Plans are also afoot to re-launch Al-Shababiyah TV - another part of the Libyan state broadcasting corporation.
One of the remaining state newspapers, Al-Shams, has ceased publication as is evident from its website, which now shows only a blank page.
Foreign links
Faced with limited options, Col Gaddafi turned abroad for media airtime, using two new pro-Gaddafi stations.
Al-Ra'y TV is owned by Iraqi businessman Mishan al-Juburi and based in the Syrian capital, Damascus. Mr Juburi is known for broadcasting television footage of attacks against coalition troops in Iraq.
His station has adopted a staunch pro-Gaddafi tone since 22 August and has broadcast statements by him and his son, Saif al-Islam. Its programmes also include daily pro-Gaddafi news bulletins and commentary, with phone-in programmes attracting callers from the Arab world.
The second television channel is named Al-Muqawamah TV - Arabic for "resistance" - and launched on 1 September with a broadcast of a Gaddafi speech defying the world. According to Mr Juburi, Al-Muqawamah TV is using an outside broadcasting van in Libya to air pro-Gaddafi content.
Al-Muqawamah TV is currently showing a loop of archive footage of IED (improvised explosive device) and sniper attacks against coalition troops in Iraq.
Rallying provincial supporters
The existence of provincial radio stations in parts of Libya that are not under the NTC's control may still enable Col Gaddafi to communicate with his followers.
Libyan reports mentioned his use of local radio stations in Sirte and Bani Walid several days ago to rally supporters.
However, in his 1 September address, Col Gaddafi referred to the loss of communications, possibly pointing to his own restricted access to the media or communication channels.
BBC Monitoring selects and translates news from radio, television, press, news agencies and the internet from 150 countries in more than 70 languages. It is based in Caversham, UK, and has several bureaux abroad.