Libya council seeks to restore order in Tripoli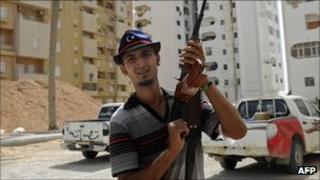 Libya's new civilian leaders are beginning the process of restoring order in Tripoli after the revolution.
A military spokesman for the National Transitional Council (NTC) said fighters would be encouraged to return home or enlist in the army.
NTC leader Mustafa Abdel Jalil has said a panel of wise men and tribal leaders will be set up to aid reconciliation.
Mr Jalil's announcement came as he returned to Libya from a summit in Paris on the country's future.
He also said the NTC would move to the capital next week from its long-held base of Benghazi.
Meanwhile, UN Secretary-General Ban Ki-moon called on the world to do what it could to help Libya in its transition, while on a visit to Australia.
"We are working to make sure that the United Nations can respond quickly to requests by the Libyan authorities," he said at a news conference in Canberra.
Kalashnikovs
The BBC's Jeremy Bowen says Libya is enjoying its revolutionary honeymoon, even though ex-leader Col Muammar Gaddafi remains at large and some parts of the country remain under the control of troops loyal to him.
But there are large numbers of armed young rebel soldiers on the streets of Tripoli who have moved into the power vacuum created by Col Gaddafi overthrow, says our correspondent, and the NTC is now gradually persuading them to go home.
NTC military officer Gen Omar Hariri said most of these fighters were engineers, doctors, lawyers and other professionals who would eventually return to their jobs.
"These people abandoned everything to join the struggle against Gaddafi. They will go back to their previous life. Those who are left will be given a choice to join as regular soldiers," he said.
There is concern also about the large number of weapons now on the streets of the capital and elsewhere, with the EU's senior representative in Tripoli warning that "everybody is wearing Kalashnikovs".
Ali Tarhouni, the NTC's senior member in Tripoli, told the BBC he was not too concerned about the guns at present as they were still needed "to hunt this killer", Col Gaddafi.
But he continued: "My concern, when you talk about democracy, civil society and peaceful discourse, is that you don't really want to do that with anti-aircraft guns."
Thousands of people, most of them women, gathered in central Tripoli on Friday in a show of support for the interim leaders.
Many of the women said they wanted a greater say in Libya's future under the new leadership.
"We want women to get out because we can't do that a lot and express our feelings. We want education to change," said one 15-year-old girl.
'Far from over'
Meanwhile, files have been found showing the level of co-operation between the CIA and Col Gaddafi's intelligence agencies, the Wall Street Journal reports.
The documents, found in a Libyan government building by Human Rights Watch researchers, show the relationship included an agreement to send terror suspects to Libya for interrogation.
The article says the CIA also moved to set up in 2004 "a permanent presence" in the country, according to a note from CIA top operative Stephen Kappes to Libya's intelligence chief at the time, Moussa Koussa.
At the Paris summit on Thursday, states represented at the summit promised to ensure Libya's frozen assets were returned and to help the NTC put the country on the road to recovery.
The NTC says it urgently needs cash and other resources to begin the reconstruction of Libya. Mr Jalil said 30% of Libyan assets which had been frozen under UN sanctions during Col Gaddafi's rule had now been released.
On Friday, Col Gaddafi's spokesman Moussa Ibrahim told Reuters he had walked around the suburbs of Tripoli on Thursday with Saif al-Islam Gaddafi, the fugitive former leader's son.
Mr Ibrahim said the fight was "very, very far from over" and that much of the regime's army was still in control of many areas.
"We will be able to capture Tripoli back and many other cities in the near future," he said.
Col Gaddafi's whereabouts remain unknown, but several audio messages reported to be from him have been broadcast by a loyalist TV channel in recent days in which he vowed to continue the fight.
The rebel fighters have given the Gaddafi-held towns of Sirte, Bani Walid and the southern town of Sabha until 10 September to surrender or face a military assault.