Libya conflict: Interim authority appeals for unity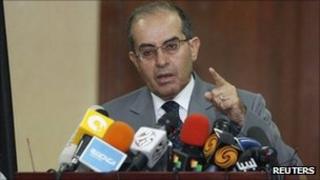 Libya's interim authorities have called for national unity, saying the liberation from Muammar Gaddafi's regime was not complete.
In his first speech in Tripoli since Col Gaddafi was ousted, Mahmoud Jibril who heads the interim cabinet, said "our biggest challenge is still ahead".
He refused to discuss the whereabouts of Col Gaddafi, who earlier dismissed reports that he had fled to Niger.
Meanwhile, hundreds of black Africans were fleeing Libya daily, the UN said.
The International Organization for Migration (IOM) said up to 300 black Africans were crossing into Niger every day because they were being systematically targeted by the forces of the National Transitional Council (NTC).
It seems that that all sub-Saharan Africans in Tripoli are accused of having backed Col Gaddafi as some of them were used as mercenaries to defend his regime, the BBC's Thomas Fessy reports.
In recent years, many thousands of African migrants have gone to Libya, trying to use it as a staging post to reach Europe.
Rockets fired
The battle of liberation is not finished," Mr Jibril said in Tripoli on Thursday.
"What the Libyans have accomplished is an unprecedented achievement in modern and recent history. However, our biggest challenge is still ahead of us."
Mr Jibril added that "the first challenge is to win against ourselves, and the second challenge is the ability to forgive".
"So the choice in front of Libyans is either to take action against those who shaped our past, or to build a new future for themselves and their future sons and generations."
Mr Jibril warned that Gaddafi loyalists still controlled several cities, adding that Libya's liberation would only end with the "capture or elimination of Gaddafi".
The NTC has been trying to negotiate a peaceful resolution to stand-offs in a handful of Libyan towns or cities still controlled by Gaddafi loyalists.
These include Bani Walid, Jufra, Sabha and Col Gaddafi's birthplace of Sirte.
Earlier on Thursday, Gaddafi loyalists fired rockets from Bani Walid. The rockets landed near those surrounding the town ahead of a Saturday deadline for loyalists to surrender.
In his phone message, which was broadcast on Syria's Al-Rai TV late on Wednesday, Col Gaddafi dismissed as lies and psychological warfare the speculation that he had fled south.
He also said he would still be able to defeat his opponents.
"The youths are now ready to escalate attacks against 'rats' in Tripoli and everywhere to eliminate the mercenaries. They are trivial. Their masters will abandon them," said the fugitive ousted leader.
The International Criminal Court (ICC) is seeking the arrest of Col Gaddafi, his son Saif al-Islam and his former intelligence chief Abdullah Sanussi for alleged crimes against humanity.