Libya's interim PM says battle 'not yet over'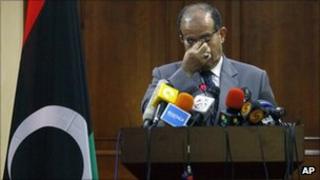 "There are tensions. But no problems."
That was the neat but rather elusive conclusion of a senior military official here in Tripoli, when I asked him about reports of growing friction between Libya's transitional civil administration - which is moving surprisingly slowly to fill a power vacuum in the capital - and the patchwork of rebel military units - some with hints of a pronounced Islamist agenda - that seized the city from Col Muammar Gaddafi's forces and now seem reluctant to abandon control.
I put the same question to Mahmoud Jibril, Libya's interim prime minister, who spent much of a rather tetchy news conference in Tripoli begging his countrymen not to squabble and play political games - and accusing unnamed forces of "jeopardising" stability and of forgetting that the battle against Col Gaddafi's forces was not yet over.
Earlier, one of his exhausted aides shook his head in wordless despair when I asked him how things were going inside the National Transitional Council.
But having raised the alarm, Mr Jibril then insisted that the situation was actually fine and that "dialogue is taking place in a wise fashion" despite the absence of a new constitution to guide them.
He makes a fair point.
Although Libya's political future looks certain to be bumpy, the security situation in Tripoli has stabilised far more quickly than many had predicted. There are too many men with guns roaming the city. But the NTC still has a decent window of opportunity to avoid something like an Iraq-style collapse here.
As for Col Gaddafi's whereabouts...
The rumours keep swirling, like the sand that blows across the desert roads leading south from Tripoli.
Neither Mr Jibril nor anyone else I've spoken to so far seems ready to admit to knowing anything definite. "I will not speak about the past," was the prime minister's lofty response to repeated requests for more information.
He was keen to focus attention instead on the ongoing fighting in Gaddafi strongholds like Sirte, and particularly on the struggle for control of desert outposts in the south of Libya, which military commanders fear could turn into a long term source of resistance to any new government.
I went to check on the stand-off around Bani Walid, a small town just under two hours drive south east of Tripoli, which is still holding out against the rebellion and where it is claimed at least two of Col Gaddafi's sons and some senior aides may be based.
Negotiations seem to have broken down, and there's been some new skirmishing on the outskirts, but it's far from clear whether the NTC's Saturday deadline for a peaceful resolution is serious or whether, as one fighter at a checkpoint north of the town told me, "It is better to be patient - I have a cousin in town and enough blood has been shed already. I spoke to my cousin last night by phone. People inside are angry - they think we are making trouble for them."
In some ways Bani Walid feels like a sideshow, given the overwhelming military advantage and territorial control now enjoyed by the new administration in Tripoli.
But the fate of the town, and of however many die-hard Gaddafi fighters end up staying there, may say a lot about the way Libya copes on its long journey towards reconciliation and stability.