Sudan police killed in Darfur hostage rescue attempt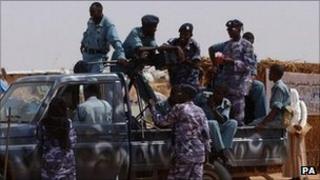 At least 13 Sudanese policemen have been killed trying to rescue hostages in Darfur, officials say.
A police spokesman said that the hostages had been taken by an armed group, rather than one of the numerous rebel groups which operate in Darfur.
The governor says the hostages were Sudanese soldiers, while there are reports that at least one was European.
The UN says some 300,000 people have died during Darfur's eight-year conflict.
The government says this figure has been exaggerated and the true figure of deaths from the conflict is 12,000.
"The police tried to release three hostages in eastern Jebel Marra," police spokesman Ahmed al-Tughani told the AFP news agency
"Clashes broke out with the gang and we lost 13 men and 30 others were wounded."
Darfur's rebels have split into numerous different factions, and officials say that many fighters are now just using their guns to get money through criminal activities.
President Omar al-Bashir is accused of committing war crimes in Darfur by unleashing the army and Arab militias to commit ethnic cleansing against the region's black African population.
He denies the charges and says the scale of the unrest has been exaggerated for political reasons by Western countries.