Libya conflict: Clashes ahead of surrender deadline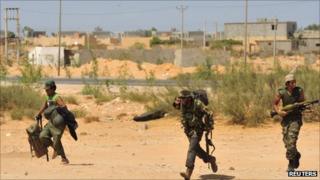 Fierce clashes have broken out in Libya around two remaining strongholds of troops loyal to Col Muammar Gaddafi.
Heavy rocket fire was reported near Bani Walid and Sirte ahead of a Saturday deadline set by anti-Gaddafi forces for loyalists to surrender.
Nato also stepped up operations, with two missile strikes on Gaddafi targets.
Meanwhile Ali Kana, a senior general in Col Gaddafi's forces who commanded troops in the south, has fled to Niger, local sources say.
'Preparing to attack'
Pro-Gaddafi forces are said to have fired barrages of Grad rockets at forces of the National Transitional Council (NTC) that have surrounded both Bani Walid and Sirte.
The BBC's Richard Galpin, near Bani Walid, says anti-Gaddafi fighters have reported three deaths and seven injuries in the intensifying fighting there.
NTC officials at a checkpoint 30km (20 miles) outside Bani Walid told Reuters a number of pro-Gaddafi forces had been captured.
One NTC commander, Khalid Ahmouda, said an attempt to break out of the town overnight had been beaten off.
"There's no food, no water. A lot of people want to leave but they have no fuel to power their cars and Gaddafi forces are preventing people from leaving the city. They fire in the air to terrorise people," he said.
NTC troops were seen sending ammunition and ordnance further forward.
Commander Abdel-Razak al-Nazouri told Associated Press: "Today marks the last day of the deadline. Our men are preparing for an attack, probably tomorrow."
NTC forces were also preparing munitions near Sirte.
There has been a heavy exchange of fire about 60km east of the city, in the Red Valley region which the NTC announced it had captured on Thursday.
The BBC's Paul Wood, with the anti-Gaddafi forces near Sirte, witnessed the incoming rocket and mortar fire from loyalist forces.
He says the rebels fired back with anti-aircraft guns but they are still a long way from the city - 45 miles from the eastern approach.
The anti-Gaddafi forces told him they will keep pushing forward and although Sirte may not fall according to their leaders' timetable, they are sure that it will fall.
Agence France-Presse said the arrival of 10 pro-Gaddafi vehicles on the frontline had sparked two hours of heavy fighting, but that the NTC troops held their position.
The NTC has been trying to negotiate a peaceful resolution to stand-offs in Bani Walid, Jufra, Sabha and Sirte but interim Prime Minister Mahmoud Jibril had warned NTC troops would respond if attacked.
Nato has stepped up its military operations, saying it had successfully launched an air strike on Friday on a Gaddafi-held warehouse holding two Scud missiles near Bani Walid.
It also carried out a long-range mission on Thursday that fired Storm Shadow missiles at a military vehicle depot near Sabha further south.
Interpol warrant
Meanwhile officials in the town of Agadez in Niger said a convoy of at least three vehicles carrying a dozen people, including Gen Kana, had arrived.
Sources in Agadez told the BBC the convoy members had checked into a hotel built by Col Gaddafi.
Several convoys of former loyalists are said to have streamed over the border with Niger over the past few weeks.
A number of Col Gaddafi's aides - including his chief of security Mansour Daw - have reached the capital, Niamey.
And one source from Niger's Tuareg community told AFP that a convoy of Gaddafi "generals and senior officials" that left Libya about three weeks ago had now moved from Niger to neighbouring Burkina Faso. The report cannot be independently confirmed.
Officials in Niger, which recently installed democracy after decades of authoritarianism, said they were letting in many sub-Saharan Africans from Libya on humanitarian grounds.
However, the head of President Mahamadou Issoufou's cabinet, Massaoudou Hassoumi, said on Friday it would respect its commitments to the International Criminal Court (ICC) if Col Gaddafi or his sons entered the country.
The ICC has issued a warrant for crimes against humanity against Col Gaddafi, his son Saif al-Islam and spy chief Abdullah al-Sanussi.
Interpol on Friday issued an arrest warrant for the three.