UN Secretary General calls for new mission in Libya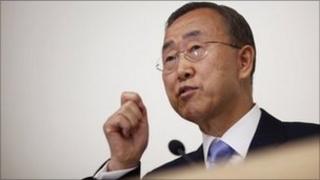 The UN Secretary General is calling on the Security Council to establish a new mission in Libya to manage the country's transition to democracy.
The mission would have a three-month mandate to help restore public security, promote political dialogue and strengthen institutions.
UN diplomats hope to pass a resolution on the mission by the end of next week.
They say it will also call for the arms embargo to be eased, but not ended, and a partial lifting of council sanctions.
UN Secretary General Ban Ki-Moon's special advisor, Ian Martin, said the Libyans envisage a major UN role in helping to organise elections. They also want UN advice on a process of justice and reconciliation, and assistance to develop an effective police force.
Vacuum of authority
Mr Martin said he was seeking a council mandate for three months, by which time UN officials would be in a position to plan longer term UN support.
The special advisor said the transition of power in Tripoli had been achieved relatively smoothly and swiftly but, according to prepared remarks, he told the closed council session there was a vacuum of authority in the city and tensions between local and national players. Later he also warned that other significant challenges remained.
He said: "It's not going to be easy to determine the future of the many groups who have been under arms, or to establish an effective police force, which is one of the areas where they've made clear they're interested in UN and other international assistance, the proliferation of weapons is a major concern including to Libya's neighbours."
A draft resolution to establish the new UN mission should begin circulating early next week.