Battle for Bani Walid begins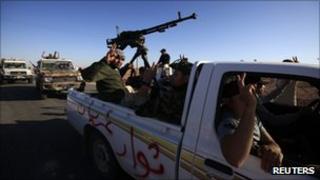 The battle for Bani Walid has begun, and with it the familiar jittery confusion and adrenalin of Libya's rollercoaster rebellion.
Trucks packed with ammunition and fighters have been racing through the makeshift checkpoint where journalists have been told to wait, some distance north of the town.
A few ambulances have been coming the other way.
There was heavy fighting on the outskirts last night, with troops loyal to the National Transitional Council being forced to retreat under unexpectedly ferocious rocket fire.
Pro-Gaddafi forces still appear to have plenty of weapons, including the feared long-range Grads. Some 20 TNC troops were reportedly injured in the past few hours.
Now, it seems, the NTC's patchwork of military brigades is regrouping, preparing for a bigger push, and skirmishing relentlessly with Gaddafi loyalists in the villages and hamlets that count as the suburbs of the big, sprawling town of Bani Walid.
NTC officials waiting in the hot sun here say their forces are proceeding cautiously, partly because of the strong resistance and partly out of concern for the lives of the many civilians still in the town.
It's not clear what role, if any, Nato airpower will play in the coming days.
Although the anti-Gaddafi forces continually insist that the fight will be over in hours, or at the most a day or two, some here are speculating that the particularly fierce resistance from inside Bani Walid may indicate the presence of Colonel Gaddafi's key aides, relatives, or perhaps even the man himself.
The NTC say they're trying to advance on two fronts - from the north and east.
If and when they take the town, they're hoping for a domino effect on the remaining three towns held by Gaddafi loyalists.