African Dream: Kenya's Susan Githuku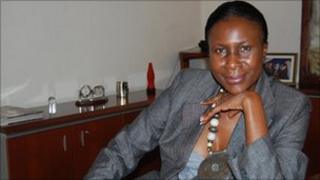 Kenyan Susan Githuku is no stranger to success: A one-time African tennis champion, she became a development economist, a human resource practitioner, and is now an accomplished entrepreneur.
She says she knew that she was going to start her own business the moment she got her first job, more than 20 years ago.
"I realised at the time, because I am a low-risk individual, that I needed to ensure that I had the requisite experiences," she told the BBC's African Dream series.
"I needed experience in the government sector, I needed experience in the NGO sector, and I also needed experience in the private sector," she added.
She first worked for Kenya's government as an economist and was later employed by Coca Cola where she climbed up the ladder to become the company's Eurasia and Africa director for learning and development.
She says that her burning idea was to start a consulting company because she is passionate about providing solutions.
"Working in the private sector for Coca Cola for almost 10 years and understanding how brands are built, that completely solidified the idea for me," she explained.
In 2009, she broke free of employment and flew solo by beginning her own human resource consultancy, HPDA Africa.
Gold medallist
As a teenager Mrs Githuku - who is now married and has two children - represented Kenya at several international events, including the All Africa Games, where she won gold and silver medals, and the Junior Wimbledon Tournament.
She then received a bachelor's degree in Economics and Psychology from St Lawrence University, in New York, and a master's degree in Development Economics from Strathclyde University, in Glasgow, Scotland.
But she says that she went back home because she wanted to make a difference in Africa.
"In the last 15 years I've worked in human resources so I always understood what good talent can do," she said.
"And my idea was to go out there and be an employer, doing my own thing, making some small difference, employing others, rather than always being the one on the receiving end."
Mrs Githuku considers that her success has a lot to do with her cautious approach to life.
"I'm not of those risk-taking entrepreneurs that love to fly by the seat of their pants. I'm structured, I'm organised, my risks are calculated."
She also warns aspiring business people that if they want to triumph, they have to make sacrifices.
"Sacrifice is absolutely relevant whether you are an employee in a great corporate, whether you are a sportsperson who must put in the hours training or whether you are an entrepreneur such as myself, working away the nights to ensure that you are delivering on promises that you've made to customers or clients."
Mrs Githuku says that her philosophy of life is to be fair and that she is not one of those employers who like to underpay "to make others sacrifice more than they should."
"What I look for in employees is attitude. I hire for attitude and I train for skill. What attitude means is that you're looking for a certain talent, and to translate that talent into something meaningful in the end."
"You're not going always to be able to afford that talent, and certainly for a growing business that's something that we face every day, but what you want to ensure is that that talent is so motivated that it's performing at the highest level that it can."
"Sometimes that means some trade-offs. You may not pay as well as you may want to, and that talent, if it has the right attitude is going to understand that at some point is going to get its due but for the time being it must do what it needs to do in order to support this growing business."
African Dream is broadcast on the BBC Network Africa programme every Monday morning.
Every week, one successful business man or woman will explain how they started off and what others could learn from them.