Libya NTC forces close in on Gaddafi home town of Sirte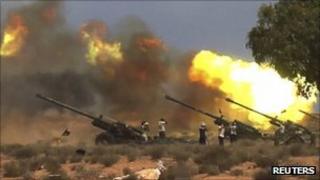 The roar of rockets, the echo of overhead artillery shells and the crunch of incoming fire punctuate this wide stretch of desert - the front line in the battle for Sirte.
The troops flying the National Transitional Council (NTC) flag are positioned to the west, south and east of Col Muammar Gaddafi's home town - the city blocked to the north by the sea.
They are looking less like rag-tag rebels and more like a standing army: they have learned to fight and are beginning to overwhelm.
Every day, at least one convoy emerges from the desert to head west along the coast road - tanks, artillery, rocket launchers or the hundreds of heavily armed pickups which are fighting the fluid front line of this war.
Anti-aircraft fire bursts into the air in celebration as truckloads of ammunition, fuel tankers and field guns move up the tarmac and mark another kilometre or 10 of gained ground.
Their progress has been swift up to the eastern gate of Sirte: an administrative and symbolic marker in one of the final pockets of pro-Gaddafi defence.
The barrage of artillery is landing on and around the gate - still 50km (30 miles) from Sirte's central mosque, but a distance decreasing by the day.
New era
On Sunday, Herawa fell - the last big town on the coast road - and now the danger line is in a small village called Sultan.
"From here for maybe 10km, hot fire," said one of the soldiers taking cover as rockets landed close to their position.
The defence of Sirte is strong: intense battles have been fought on Tuesday in the desert as the pro-Gaddafi fighters cling on to every kilometre before firing off a salvo of rockets and then retreating.
Spotters and snipers left behind hold up the advance.
As each village has fallen, a community has had to adjust to a new era - four decades of dictatorship disappeared in a moment.
Gaddafi salute
Abdullah, 60, took me to see his family a few kilometres outside Herawa.
They were sheltering in a half-built house - one of 500 unfinished luxury villas on the outskirts, sporting a hastily raised rebel flag.
They had marble window frames and lavish rooms: these kinds of houses are only built with close connections to the Gaddafi clan.
"We fled the war - Gaddafi's war. The fighting came from both sides - from the west and from the east," Abdullah said.
He was quick to criticise the old regime and welcome the new, but something didn't add up.
A daughter greeted us with the old, Gaddafi salute, another held up a photo of the deposed leader, and Abdullah angrily snapped at her in Arabic to get out of the room.
The children had learnt in English by rote "Gaddafi bad" - it made me wonder what they were taught to say when Gaddafi loyalists held the town a day earlier.
So were they Gaddafi supporters or sympathisers? Perhaps. These people have had to switch loyalties very quickly to protect themselves.
Just to survive in Libya, families have needed favours: to thrive could be called complicit, but it's not simple any more.
Then we met another, younger Abdullah across the road.
"Our tribe is related to Gaddafi. We are relatives of Gaddafi, I can't deny that," he said, confirming that was why they had been given new houses.
"We hope that our brothers will change their mentality. We have to forget everything about this war.
"If I am a relative of Gaddafi, I need those people who have suffered from Gaddafi's treatment to forget everything and forgive us - and we will help them."
Meeting Gaddafi fighters
It's a big thing to ask after all the years, but how these people who profited under Col Gaddafi are treated will decide the future of Libya.
If reconciliation does not happen and if revenge fills the vacuum, then freedom and democracy may be short-lived.
Despite a few incidents, so far the rhetoric has been good, and the treatment of prisoners, for example, has been respectful.
Three men were captured with sniper rifles: it appears they had been left for dead by their commanders as bait to lure anti-Gaddafi troops straight into a rocket barrage.
They had been caught and were being held in a small dark storeroom in the mosque, the sound of raised Arabic voices echoing around them.
I was taken to meet them. They said they were being well treated and talked of propaganda they had been told about the war.
"They would have gladly slit our throats," one of the NTC troops said in English, but he had been told not to take revenge, and seemed to accept his orders.
In the melee of gunfire, chanting and cheering, there's an energy to the NTC forces' advance, but there's a lot of desert still to capture and no sense yet the loyalists are ready to give in without a real fight.