Somali famine: Care aid driver abducted in Kenyan camp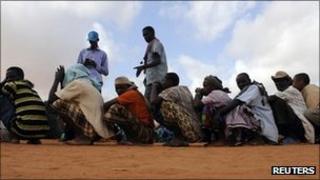 A Kenyan driver for an organisation providing drought aid is missing after being held up at gunpoint in a refugee camp near the Kenyan-Somali border.
Care Kenya said three men approached the car on Monday, ordered him into the back and drove off.
The abduction occurred near Dadaab - the world's biggest refugee camp.
Care has scaled down its aid effort following the first known attack on an aid worker since famine was declared in parts of Somalia in July.
The UN says more than 1,000 people are turning up at Dadaab every day fleeing Somalia's famine and war.
Tens of thousands of people have died in what the UN says is East Africa's worst drought for 60 years.
Twenty years of fighting and the lack of a national government mean that Somalia is by far the worst-affected country in the region.
Screening centre
According to Care's country director, Gary McGurk, the abduction took place in broad daylight.
It is not clear what nationality the attackers were or where they took the car and driver.
"We have suspended our programmes [in Dadaab] except for the life-saving programmes," Mr McGurk told the BBC.
Care says it is still distributing water and food but has halted its education and counselling programmes.
The BBC's East Africa correspondent Will Ross says Hagadera, where the attack took place, is one of the three sections making up Dadaab, which is now known as Kenya's third largest city and houses almost 450,000 refugees.
Insecurity is a great problem and reports of rape are common, he says.
Earlier this month, a British man was killed and his wife abducted further south along the Kenya-Somalia border. It is now believed she is being held by a pirate gang.
The UN says it is paying for more Kenyan police posts to be set up and hopes security will improve when a new screening centre opens on the Somali border.
Six areas of Somalia have been declared famine zones - mostly in southern parts controlled by the Islamist group al-Shabab.
The al-Qaeda-linked group banned many aid agencies from its territory two years ago.
This has prompted tens of thousands of people to seek food aid in the capital, Mogadishu, which is ruled by the weak interim government, or in camps in neighbouring Kenya and Ethiopia.