Suspect denies Marrakesh bombing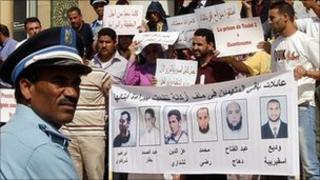 The chief suspect in the trial over a bombing which killed 17 in the Moroccan city of Marrakesh has retracted his confession and denied involvement.
Adel Othmani, told the court he had been set up by intelligence services.
The blast in April ripped through a cafe in the city's main square. Most of its victims were foreign tourists.
Mr Othmani, who faces the death penalty if convicted, denies murder and making explosives. Seven others deny playing a lesser role. The trial was adjourned.
The blast at the Argana cafe, in Djemaa El-Fna - the tourist heart of Marrakesh - killed eight French nationals and two Moroccans, as well as citizens of Britain, Canada, Switzerland, Portugal and The Netherlands.
'Torture threat'
It was the deadliest attack in the north African kingdom since bombings in the coastal city of Casablanca in 2003 killed 45 people, including suicide attackers.
During Thursday's hearing, Mr Othmani told judges and lawyers that he had never set foot in Marrakesh.
He explained his earlier confession and participation in a reenactment of the attack as having been performed under threat of torture.
Mr Othmani claimed Moroccan intelligence had "created a terrorist event" and then quickly arrested suspects to prevent pro-democracy protests and prove the country was the "perfect ally to the West in the fight against terrorism", the Associated Press news agency reported.
Outside court, where suspects' relatives staged a demonstration, Mr Othmani's older brother, Adil, told the BBC: "He has not done anything wrong. All this has been lies. He has been blackmailed with torture."
Delay fears
Relatives of the victims also attended the hearing.
French citizen Eric Bedier, whose brother-in-law Eric Asnar died in the attacks, flew in from Marseille. He and the victim's mother, Nadine Asnar, said they planned to stay throughout the trial.
"We must be present and we must show solidarity until the next process. The Moroccan system is different... to the French system as here it can often be postponed," Mr Bedier said.
The suspects are accused of offences including belonging to a banned religious group.
Police have described some of them as "admirers of al-Qaeda". Moroccan authorities had initially blamed al-Qaeda in the Islamic Maghreb for the bombing but the group has denied any involvement.