African Dream: Uganda's David Katumwa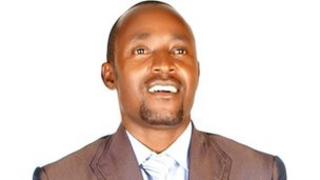 When David Katumwa started selling pancakes as a child in a village near Uganda's capital, Kampala, little did he imagine that one day he would own his country's most successful chain of sports shops.
Born into a very poor family, his pancakes helped him to pay his school fees until tough times forced him to abandon his studies.
But he continued with the business hustle and moved on to sell vegetables, fish and eventually second-hand sports shoes.
Then - with a start-up capital of $50 (£32) - he created the Katumwa Sports Centre in Kampala which now has 20 retail outlets across the country.
"I never got any loans from either friends or money lending institutions," Mr Katumwa told the BBC series African Dream.
All he had was his brain and the time to consider the options before him, he said.
"First of all, I believe in myself, and I believe that anything is possible," he added.
If at first you don't succeed...
Mr Katumwa said that once he makes a plan he sticks to it.
"If I fail to fulfil that, then I have to try again. I always try again and again and again. Whenever I fail something, I just sit back and think what has made me fail to do this," he explained.
"Business is all about trying and is all about risking. Minus brain, you can borrow a billion dollars and you fail."
Mr Katumwa told our correspondent Kevin Mwachiro that in business it is also important to do something you love.
In his village he was a keen footballer and even became the captain of his school's team.
"I've chosen sports because I love sports, I'm proud to deal in sports items, and I know what I'm doing," he said.
According to him, another essential ingredient for success is honesty when dealing with clients, suppliers and staff.
"Customer care begins with your staff. You can't say you give customer care to customers, yet your employees you treat them like animals."
Another piece of advice that he gives is not to treat your competitors as enemies.
If you befriend them, he says, you are more likely to understand their weaknesses and stay ahead.
African Dream is broadcast on the BBC Network Africa programme every Monday morning.
Every week, one successful business man or woman will explain how they started off and what others could learn from them.