Al-Shabab returns Somali victims to famine-hit villages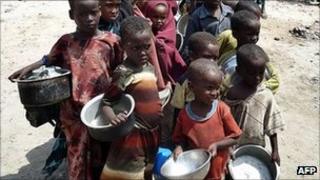 Foreign aid workers are concerned about the fate of thousands of Somalis being taken back to famine-hit villages by Islamist militants.
The al-Shabab group says it is moving people out of camps in the central town of Baidoa ahead of the rainy season so they can prepare to farm.
An al-Shabab official told the BBC that food rations to last a month would be given to the families.
The UN has declared a famine in six regions of Somalia.
There are mostly in southern parts controlled by al-Shabab, which banned many Western aid agencies from its territory two years ago.
This has prompted tens of thousands of people to seek food aid in the capital, Mogadishu, which is ruled by the weak interim government, or in camps in neighbouring Kenya and Ethiopia.
But some local charities have been able to distribute food in al-Shabab areas like Baidoa, where six displacement camps hold an estimated 50,000 people.
'Death row'
"There are about 6,500 families who are ready to move back [to their original area]; we are arranging food that they can use for this month," al-Shabab's disaster committee spokesman Suldaan Aala Mohamed told the BBC.
"We are also giving them seeds for the planting season."
Several water tankers had left with the first lorries full of people from Baidoa, Mr Mohamed said.
He said people needed to be on the farms in time for the rains.
The BBC understands that they were not given a choice. Some aid workers, who fear speaking on the record because of the sensitivity of the situation, said they were appalled at the move.
One said it was like putting people affected by the famine on death row.
The BBC's East Africa correspondent Will Ross says no crops were expected to be ready for harvest until January at the earliest, so a massive food distribution operation would be needed for months to come.
In Mogadishu, thousands of people prayed for rain on Friday.
The region is affected by what the UN says is East Africa's worst drought for 60 years.
Somalia - racked by 20 years of conflict and without a functioning central government - is worst-affected.