Libya: Italian oil firm Eni resumes Abu Attifel pumping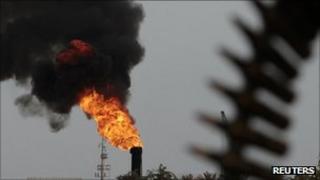 Italian oil firm Eni has restarted production at an oil field in Libya, as opponents of Col Muammar Gaddafi tighten their control on the economy.
Eni, which was the biggest foreign oil producer in Libya before Col Gaddafi was overthrown, said it planned to reopen other fields in the coming days.
Other firms, including French company Total, have also restarted operations.
Meanwhile, anti-Gaddafi forces are closing in on his hometown of Sirte, one of his few remaining strongholds.
The soldiers, loyal to the National Transitional Council (NTC), launched a surprise attack on the city on the weekend.
The BBC's Alastair Leithead, near Sirte, says the troops have the city surrounded and are preparing to enter it with significant force.
Gaddafi loyalists have been fiercely protecting the city from NTC advances in recent weeks.
Eni said in a statement it has restarted production at 15 wells in the Abu Attifel oil field, about 300km (190 miles) south of Benghazi.
Slow recovery
The company said it was pumping 31,900 barrels of oil a day, compared with a rate of 70,000 barrels a day before the unrest broke out.
The wells were closed in March amid increasing violence between Gaddafi loyalists and rebels, who later formed the NTC.
France's Total announced last week that it had resumed production at its al-Jurf offshore facility, which is capable of producing 40,000 barrels a day.
And Libya's state controlled Arabian Gulf Oil (Agoco) announced earlier this month that it had started pumping 160,000 barrels of oil from fields in the east.
The country was producing 1.6 million barrels a day before the unrest began, making up the bulk of its wealth.
Experts say it is likely to take at least a year before anything close to those levels are reached again.
The NTC still has not found Col Gaddafi, who ruled the country for more than 40 years.
But several of his children and members of his inner circle have fled abroad.
His daughter Aisha fled to Algeria, and told journalists last week that her father was in good spirits and fighting alongside his supporters.
The Algerian newspaper El-Khabar reported on Monday that a group of Gaddafi supporters, possibly including Aisha, had now left the country for Egypt.
The report has not yet been confirmed.