S Africa: 'Dr Death' Wouter Basson in misconduct trial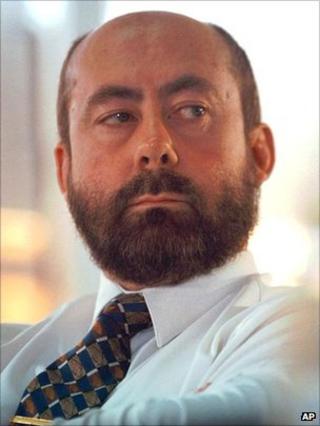 The head of South Africa's germ warfare programme during the apartheid era is fighting to retain his licence to continue practising medicine.
Wouter Basson is charged with manufacturing illegal drugs in the 1980s and early 1990s, some of which were allegedly used on state prisoners.
The man dubbed Dr Death escaped a criminal conviction in 2002, arguing that he acted under orders of the South African Defence Force (SADF).
He is now a cardiologist in Cape Town.
"I closed this chapter 20 years ago," he told reporters outside the hearing at the Health Professional Council South Africa (HPCSA) offices in Pretoria. "All I want is to continue serving the country as a medical professional."
Potato blight
Mr Basson, as head of the chemical and biological warfare division of the SADF from 1981 and 1993, is accused of creating viruses that would only attack black people.
He is alleged to have provided security forces with cyanide capsules to help them commit suicide, "weaponising" thousands of 120mm mortar bombs with teargas, and providing drugs that would disorientate SADF prisoners.
The charges were first brought in 2007, but Mr Basson sought to have the hearing declared unlawful, unreasonable and unfair - an application that was dismissed by the high court in Pretoria last year.
Some of the charges have been dropped again him, but if found guilty of behaving unethically as a doctor by the HPCSA, Mr Basson faces losing his licence to practise as a cardiologist.
In 2002, Mr Basson was acquitted by a court in Pretoria of 67 charges including murder, conspiracy, fraud and drug possession.
He said during the trial that he had only been following orders, and portrayed himself as a scientist who had sought ways to combat potato blight and a Hepatitis A epidemic.