African Union to get extra troops for Somalia mission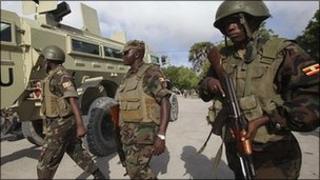 The African Union (AU) says it expects to receive 3,000 extra troops over the next six months to reinforce its operations in Somalia.
Lt Colonel Paddy Ankunda, spokesman for the AU mission in Somalia, said the troops would come from Djibouti and Sierra Leone.
At present the AU has around 9,000 soldiers in the Somali capital, Mogadishu.
AU commanders have long complained they have do not have sufficient numbers.
Their current force deployment is too small to hold the whole of the city, they argue, even though the Islamist insurgents of al-Shabab have pulled back from some areas they held until early August.
Following their retreat, the AU force commander in Somalia, Maj Gen Fred Mugisha, appealed for thousands of extra troops to secure the capital.
But despite frequent verbal support from African heads of state, only Uganda and Burundi have until now been prepared to provide the soldiers for this risky mission.
Now they are promised the reinforcements they say they need.