Back to whose reality?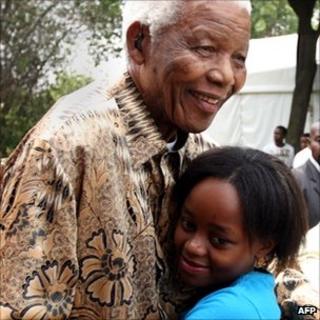 How is one to take the news - or rather the muddled, vaguely mysterious, sort-of-announcement here in Johannesburg - that three of Nelson Mandela's grandchildren are planning to star in their own reality television show?
I must admit that my mind lurched, glibly, back to 1987 and to the alarming spectacle of another nation's "First Family" deciding to let their hair down.
My second thought was addressed directly by Dorothy Adjoa Amuah, granddaughter of the late Evelyn Mandela - Nelson's first wife - who has clearly done some research on the subject.
"We're definitely not the African Kardashians," she said, no doubt to the relief of an entire continent.
And there were further lines of defence.
"We're not wearing 'I'm a Mandela' T-shirts," said Swati Dlamini, granddaughter of Winnie Madikizela-Mandela.
"It's not going to detract from the dignity of Nelson Mandela," declared the producer Rick Leed.
Instead, the purpose of the show will be to expose "Africa for what it is… with a new middle class of intellectuals… contributing to the economy," said Dorothy Adjoa Amuah.
"The show will be about our lives as young, black women," said Swati Dlamini.
Nelson Mandela is not expected participate.
The notion that Africa's emerging middle classes need more exposure and more encouragement is entirely correct. Drop into any mall here in Joburg and you will see how quickly that black middle class is growing and thriving.
It is one of the real success stories of South Africa - glimpsed by the world during last year's football World Cup but otherwise rarely noticed abroad.
And yet, of course, South Africa is also developing into one of the most unequal societies on earth, with a yawning gap between rich and poor.
Are the privileged Mandelas - however much one respects the name and the legacy, and sympathises with the burden such a surname must sometimes be - best placed to champion the middle classes?
A larger question also looms. Will South Africa's future be defined, and decided, by that middle class, or will the path ahead belong to the angrier voices of an impoverished, poorly educated, and increasingly marginalised underclass?