Morocco cafe bombing: Eight deny Marrakesh attack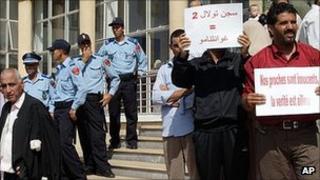 Eight men accused over the deadly bombing of a cafe in the Moroccan city of Marrakesh have all denied involvement in the attack.
As the trial resumed, some of the accused told the court they had been threatened to make them confess.
The blast at the Argana cafe in April killed 17 people, mostly foreign tourists.
Chief suspect Adel Othmani denies murder and making explosives while seven others deny playing lesser roles.
At the last hearing on 22 September, Mr Othmani said his earlier confession and participation in a re-enactment of the attack were performed under threat of torture.
He said he had never set foot in Marrakesh.
When the trial resumed on Thursday, his fellow accused also denied involvement.
Defendant Abdessamad Battar said he had been threatened into confessing.
"I didn't read the deposition drawn up by the police, they made me sign it and I did so out of fear," he told the courtroom in Sale, near Rabat.
Most defendants denied knowing Mr Othmani although one, Mohamed Njim, said he had spoken with him in 2007 and heard that he had wanted to go to Chechnya for jihad.
The trial is being attended by relatives of the victims as well as relatives of the accused. Correspondents described the courtroom atmosphere as tense.
Families of the defendants insist the men have been framed.
The bombing killed eight French nationals and two Moroccans, as well as citizens of Britain, Canada, Switzerland, Portugal and the Netherlands.
Moroccan authorities initially blamed al-Qaeda in the Islamic Maghreb (AQIM) for the bombing but the group has denied any involvement.
Guillaume de Saint-Marc, president of the French Association for Victims of Terrorism, said they had confidence in Moroccan justice.
"We want light to be shed so that all those implicated are convicted," he said.