African Dream: Liberia's Barkue Tubman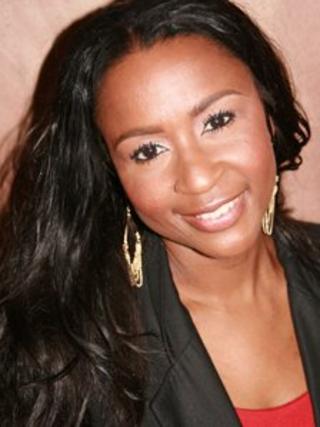 Barkue Tubman's story is not one of rags to riches: Now one of Liberia's most successful entertainment entrepreneurs, she was born into one of the country's most distinguished and privileged families.
Her story is rather one of exile and of dreaming to return to help with the reconstruction of the country that she and her family had to flee in 1980 when she was starting primary school.
Her grandfather, William Tubman, was the president of the West African country from 1944 until his death in 1971.
He was succeeded by his long-time vice-president, William Tolbert Jr., who was killed nine years later, following the military coup led by Master Sergeant Samuel Doe.
The coup led to many years of instability and civil war. Hundreds of thousands of Liberians lost their lives and millions became refugees.
Ms Tubman grew up in the United States, in New York, and studied French and Business Management at Elon College, North Carolina.
Although her head was in business her heart was in theatre, dance and music. This led her to venture into the male-dominated entertainment industry and carve a niche in the highly competitive artist management sector.
She would eventually hold high-level jobs in companies such as Family Tree Entertainment and Violator Management, and work with stars like Janet Jackson and Macy Gray.
At the same time, she continued developing a company she started in 1998, Miss Boss Lady Entertainment, Inc.
Homecoming
Then, in 2005, when another Liberian woman, Ellen Johnson-Sirleaf, was elected as the first female African head of state, she decided to go back to her country of birth.
"I pray a lot so, you know, I prayed about it and I was led to come back home. I didn't really know what I was gonna do initially but Liberia was a virgin market even back then so anything I wanted to do, as far as I was concerned, with the gifts that I had been blessed with, I knew I would turn it around because I know the strength that I have," she told the BBC's series African Dream.
"What I learned quickly when I hit the ground was that entertainment was not a priority on anybody's list, for obvious reasons. It wasn't rocket science. It was definitively tough but you don't necessarily give up, you just rearrange how you approach what you can do for the entertainment industry with respect to creating opportunities, but every year it gets better and better."
With the money she had made in America, Ms Tubman expanded her company. It is now called Miss Boss Lady Entertainment International Inc (MBL) and caters not only to Liberia but also to other countries in West Africa.
MBL counts among its clients the National Oil Company of Liberia, the Ministry of Information Culture and Tourism, USAid and the World Bank, and produces the Miss Liberia pageant, among other shows.
"For me the biggest challenge was the people. You know, you come back from living in the States for many many years - and I grew up in New York so I have that New York state of mind which probably will never change and I'm very thankful for it - but with respect to the people, it's what we call the post-war mentality," she said.
"War is beyond devastating. I don't think people realise it. You see it from afar and you're touched.
"But to live amongst people that have had to endure war in crises under these circumstances, and the way they've been surviving for the past 15-plus years, to now try to have to change their mindset is very difficult."
'Bright future'
She commended government officials and especially President Johnson-Sirleaf for the work they have been doing in this area.
"It's a big challenge to take but you have to believe in the people because you knew what it was and you know what it can be as long as we don't forget about people. We have to help educate them.
"The future of Liberia is definitely bright because the young people are really striving to make themselves better and learn."
And what advice does she give people who want to go into business?
"Have a plan - I always say 'pray first' because you're always undertaking something really huge - and dream. After you dream, then plan. After you plan, then study. And after you study, then execute."
And if things go wrong?
"Research what you did wrong and don't pass the blame. Sometimes it's really yourself standing in the way of what your real blessings are and what is supposed to be yours with respect to your business.
"So focus, do what you have to do, know what you have to do but, again, the most important thing is don't give up."
African Dream is broadcast on the BBC Network Africa programme every Monday morning.
Every week, one successful business man or woman will explain how they started off and what others could learn from them.