Violent attack in Nigeria village leaves 19 dead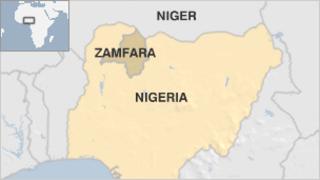 At least 19 people have been shot or hacked to death in a brutal attack in a village in north-west Nigeria, police say.
Eyewitnesses said about 150 people raided the village of Lingyado, in Zamfara state close to the border with Niger, with guns and machetes.
A police spokesman said it appeared to be a reprisal attack in response to a similar incident in August.
Security forces have been sent to the area to restore order.
Police spokesman Sunusi Amiru said six others were wounded in the attack and were receiving medical attention.
"We are on top of the situation, we are on the trail of the suspects, we have deployed more men to the trouble spots," he told Reuters news agency.
The BBC's Nigeria correspondent Jonah Fisher says the victims were attacked as they emerged from their homes.
When the shooting began, some residents fled into nearby cornfields, the Associated Press news agency reports.
Some of the attackers shouted that they would rape any women they found, one witness, Ahmad Tsauri Lingyado, told AP.
One witness, speaking from hospital, told the BBC that his house was targeted first, and that he saw both his grand-daughter and daughter-in-law killed.