Zimbabwe children 'condemned to life without education'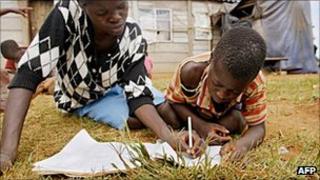 Thousands of children in Zimbabwe, who were forcibly evicted from their homes six years ago, are still not receiving proper education, a rights group says.
The government had promised 700,000 families a better life when it demolished slums in major cities in 2005 under Operation Murambatsvina.
But Amnesty International says many children are now worse off, attending "makeshift" schools in new settlements.
Education Minister David Coltart said Amnesty's report was "credible".
Mr Coltart, a senior member of Prime Minister Morgan Tsvangirai's Movement for Democratic Change (MDC), which formed a unity government with President Robert Mugabe's Zanu-PF party in 2009 to end years of conflict.
"These children were displaced [by the Zanu-PF government]," he told the BBC's Network Africa programme.
But he said the unity government had made "great strides" in tackling the education crisis.
Zimbabwe had one of the best education systems in Africa after independence in 1980, but it collapsed after 2000 when the country was hit by political conflict and hyperinflation, analysts say.
'Sex work'
In its report Left behind: The impact of Zimbabwe's mass forced evictions on the right to education, Amnesty said the government had taken a "step backward" when it launched Operation Murambatsvina, which means "clean out the filth" in the local Shona language.
It demolished shack settlements in Harare and other cities, before moving people to new areas under Operation Garikai (Better Life).
The government had removed children from areas where they had education and six years later it had failed to build schools in the new settlements, the report said.
This had forced communities to set up "make-shift" schools, striking a "devastating blow to the lives and dreams of thousands of children".
"The new settlements are worse then where people [lived]," Simeon Mawanza, who authored the Amnesty report, told the BBC.
"If there is no serious investment by the government, these people will be condemned to a life of poverty and suffering."
Mr Coltart said he was aware that unregistered schools had "mushroomed" because of the relocations and he was was trying to deal with the issue.
In 2008, 90,000 teachers were on strike and 8,000 schools were closed, meaning that children received only 27 "educational days", the education minister said.
"There was a calamitous situation... Our policy has been to stabilise the education sector, but we acknowledge we still got a lot of work to do," he told the BBC.
Amnesty said young women it had spoken to had decided to get married because they could no longer go to school.
It quoted one a 17-year-old girl as saying she married "so that I could have someone to provide for me. I did not want to go into sex work like most of the girls who dropped out of school".
Amnesty said many of those evicted were promised basic housing but they are still living in poorly built shacks and plastic shelters.
The evictions were widely seen at the time as an attempt by the Zanu-PF government to disrupt growing support for the MDC in the build-up to the 2005 parliament election.
Zanu-PF won the poll, which the MDC condemned as a sham.
Three years later, after disputed and violence-marred presidential and parliamentary elections, Mr Tsvangirai and Mr Mugabe agreed to form a coalition government.
Mr Mugabe has said new elections, which will herald the end of the coalition, will take place next year.
Tension between the two parties has been rising ahead of the poll.