South Africa call to solve gay 'serial killings'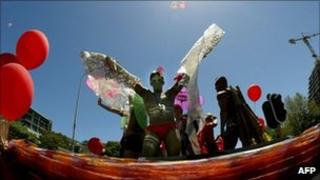 Rights activists in South Africa have strongly condemned the police for failing to solve the murders of five gay men by a suspected serial killer.
The five were strangled or bludgeoned to death in their Johannesburg homes in the past 18 months, reports say.
The Commission on Gender Equality told the BBC it was concerned about the police's failure to speedily investigate these alleged hate crimes.
Homophobia is widespread in South Africa, despite its liberal laws.
Johannesburg's The Star newspaper reported that four of the gay men were tied and strangled in the last 10 months, while the fifth was tied and bludgeoned to death in April last year.
This has raised suspicions that the murders were carried out by a serial killer or a homophobic gang, it reports.
Police found no evidence of forced entry into the homes, suggesting that the killer or killers knew the victims and had been invited in, the newspaper says.
But police spokesman Col Lungelo Dlamini told the BBC there was no evidence of a serial killer on the loose and they were investigating the cases "individually".
'Deep-rooted hatred'
The Commission on Gender Equality's spokesman Javu Baloyi said police should put more effort in their investigations.
"Cases take too long, even if there is compelling evidence of hate crimes," he told the BBC's Focus on Africa programme.
He said South Africa's tiny gay and lesbian community was gripped by fear.
"We have got one of the best constitutions. Yet, people have got deep-rooted hatred for gays and lesbians," Mr Baloyi said.
South Africa is the only African country and one of only 10 in the world to have legalised homosexual marriage.
Its constitution specifically forbids discrimination on the grounds of sexual orientation.
Col Dlamini denied that police were slow in investigating hate crimes.
"We investigate each case based on the evidence from the scene and the information at our disposal," he said.
"We don't place greater or less importance on any case. We work with the information we can gather."
Homophobia is common in most African countries because of strong religious and cultural beliefs.