Malawi's President Mutharika promises riot enquiry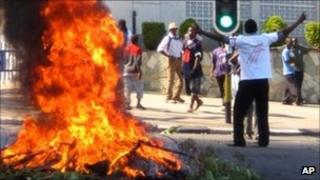 Malawi's President Bingu wa Mutharika has told the BBC that he will establish a commission of enquiry into the riots that took place in July.
At least 19 people were shot dead by police during anti-government protests that erupted in Malawi's main cities.
Mr Mutharika said the police could not stand by while shops were burnt.
He reiterated his view that the protest organisers were "led by Satan" as they had refused to discuss their concerns and instead took to the streets.
Mr Mutharika was speaking exclusively to the BBC's Africa Have Your Say programme in his first major interview since the unrest in July.
"Very soon, within the next 48 hours, we are announcing an independent commission of enquiry into all the aspects of what really happened [during the riots]," he said.
'Tolerant president'
The protests were triggered by what the opposition described as the worst economic crisis to hit Malawi since independence, as the country faced acute shortages of fuel, electricity and foreign currency.
Mr Mutharika accused the protesters of committing treason and deployed the army and riot police to restore order.
But he denied in the BBC interview that he was authoritarian - a charge levelled by the protesters.
"I am the most tolerant person that you can think of. Let me give you an example: Despite all these provocations, there isn't a single political prisoner in Malawi's jails," he said.
In July, the UK cut aid to Malawi after accusing the government of handling the economy badly. Other donors have also reduced assistance.
Last month, Malawi devalued its currency, the kwacha, under pressure from the International Monetary Fund (IMF).
The IMF is demanding a further devaluation, as well as other economic reforms.
But Mr Mutharika said he was managing the economy well and denied that Malawi's relationship with foreign governments had deteriorated.
"We have all agreed that the problems facing Malawi are multifaceted and we have also agreed that we do need external assistance," he said.
Mr Mutharika also promised an enquiry into last month's death of student activist Robert Chasowa at a polytechnic in the commercial capital, Blantyre.
"We must find out the truth and indeed if there is foul play someone has to be made to pay," he said.
Police said Mr Chasowa, a member of the Youth for Freedom and Democracy movement, committed suicide.
But his colleagues and family say they suspect foul play.
Police had been searching for Mr Chasowa for publishing alleged anti-government leaflets at the time of his death.
Malawi is one of the poorest countries in the world, with an estimated 75% of the population living on less than $1 (60p) a day.
Mr Mutharika has governed the small southern African country since 2004 and is currently serving his second and last term as president.