Pirates hijack tanker off Nigeria coast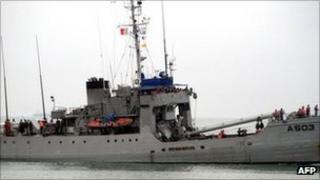 Pirates have seized a tanker and its crew off the Nigerian coast, the International Maritime Bureau (IMB) monitoring group says.
The attack happened about 90 nautical miles south of Nigeria's economic capital, Lagos, on Saturday.
"This is an organised crime activity," IMB Director Capt Pottengal Mukundan told the BBC.
Last month, Nigeria and neighbouring Benin launched joint navy patrols to curb growing piracy in West Africa.
Nineteen vessels have been attacked off Benin's coast this year - eight of which were hijacked.
Capt Mukundan said the seized tanker was registered in the Marshall Islands.
The pirates were likely to siphon the cargo into a waiting tanker, he said, without specifying what the ship was carrying.
He said the tanker is likely to be released after its cargo had been stolen.
In August, a group of London-based insurers rated part of the West African coast in the same high-risk category as Somalia.
Capt Mukundan said navies in the region needed more resources to tackle piracy.
Six Nigerian ships and helicopters and two vessels from Benin launched joint patrols late last month following mounting concern about piracy in West Africa.
International navies - including those from China and the US - are patrolling the East African coast, where piracy is far worse.
Somali pirates normally seize ships and their crew and take them to their on-shore bases, where they are held - often for many months - until a ransom is paid.