Nigerian newspaper 'used fake Olusegun Obasanjo letter'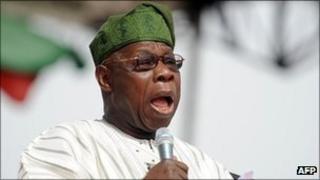 Nigerian police have arrested four journalists after ex-President Olusegun Obasanjo accused them of publishing a letter with a forgery of his signature.
The letter was used to back up a story in the Nation newspaper suggesting that Mr Obasanjo still wields huge influence in government.
The Nation said it was standing by its story and the authenticity of the letter.
The journalism union said the police were trying to silence the media.
"If our colleagues have committed any offence, there is a court of law," the head of the Nigeria Union of Journalists, Mohammed Garba, told the AP news agency.
"We expect that they [the police] would take them to court and the issue can be squarely addressed by the courts."
'Sensitive issue'
The BBC's Jonah Fisher in Lagos says the contents of the letter touched on a sensitive issue for current President Goodluck Jonathan.
The letter recommended that Mr Jonathan sack five employees and named people to replace them.
It raised questions about whether he was truly his own man or whether he was still heavily influenced by those who helped his rise from obscurity, our reporter says.
The Nation's general editor Kunle Fagbemi said seven staff members - four of them senior editors - had been arrested.
Police also raided the Nation's offices in the capital, Abuja, he said.
A police spokesman said they were investigating who was behind the alleged forgery.
Mr Jonathan is a former deputy president who succeeded President Umaru Yar'Adua after his death last year.
In April, Mr Jonathan won elections, marred by violence and allegations of fraud.
Mr Obasanjo stood down in 2007 after pushing for Mr Yar'Adua to succeed him.