Congolese migrants describe horrific abuse in Angola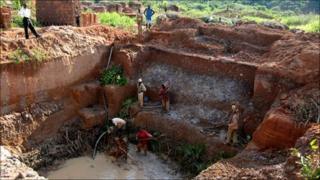 In the Democratic Republic of Congo town of Kamako, seven kilometres (four miles) from the Angolan border, 10 women sit on sofas arranged in a circle by a local non-governmental organisation which helps distressed migrants.
Therese Tshanga is one of them. This 38-year-old Congolese woman is among hundreds of thousands of migrants expelled from Angola since 2003.
She cradles a toddler in her arms and has a fresh scar on her forehead.
Ms Tshanga says she was looking for a job in Angola when men in uniform arrested her on 28 September and took her into the bush.
"Three soldiers came to rape me. The first two had their way, then I resisted against the third one and he gave me this wound to the face with his teeth," she says, pointing to the scar.
After being held for three days in the bush and another three days in a prison near the Angolan border town of Dundu, Ms Tshanga says she was finally deported to her native DR Congo with her nephew. She has lost contact with his mother.
No hope
Kamako is full of deportees with similar stories.
Jacquie Kasokome says she was raped by five Angolan soldiers. Another woman reported being stripped and searched for money and diamonds by border guards, who inserted their fingers in each of her body cavities, then stole her clothes and shoes before kicking her out of the country.
As for the men, most of them admit to crossing into Angola illegally to work as diamond miners. They report severe beatings if they are caught by Angolan security services.
"I was beaten up a lot. My ear hasn't been working properly because of a blow I took here," said Mubikay Mupani, as he pointed to the side of his head.
When I asked Ms Tshanga if her attackers explained why they were raping her, she replied: "They said: 'We don't want the Congolese to come to Angola but you don't want to understand, so we're raping you so that you don't come back'."
But Mr Mupani, a young father, says he has no hope of sustaining his family in DR Congo and he plans to return to Angola, despite the risk of being deported again.
Mass deportations
Congolese officials and charity workers say that violent deportations started in late 2003, when the Luanda government asserted control over its territory after the end of the Angolan civil war and banned foreigners from diamond mines.
This happened around the time the conflict in DR Congo was also ending, as a new transitional government - led by President Joseph Kabila, and including former rebels - took office.
It enacted legislation allowing rich individuals or companies to buy exclusive mining concessions, leaving thousands of small miners without an income.
This forced many of them to emigrate to Angola and other countries.
Together DR Congo's immigration authorities, the International Committee for the Development of Peoples (CISP), an Italian aid agency, has been monitoring the crisis along the border.
Since 1 April, they have recorded 38,000 deportations. More than 2000 of the deportees said they had suffered sexual violence, and 7,000 reported other forms of physical abuse.
Nearly half said all their belongings had been stolen during their deportation.
The expulsions have never been high on the diplomatic agenda between Angola and DR Congo, though Kinshasa lodged an official complaint last May, when a man was reported to have had his penis cut off after he was arrested by Angola's security forces.
While Angola transports the deportees to the border in batches of a dozen to a few hundred, reports coming in from the Kandjaji border post in the past week point to something bigger.
"On 5 October, according to several sources reporting to us, the military attacked a village inhabited by Congolese in Angola," said CISP's protection coordinator Antonion Mangia.
He added that more than 3,400 people fled the attack into DR Congo.
"Many of them told us a lot of people died crossing a river. More than 300 women claimed they had been raped, and many people said they had been beaten up."
An Angolan embassy spokesman in Kinshasa, Joao Gomes, dismissed the accusations against his country's security services.
He insisted that Angola had a right to protect strategic diamond mining areas.
"In Angola, as well as in [DR] Congo and other countries, there are laws that must be respected, especially in state reserves such as diamond mining areas. But saying that Angolan troops commit atrocities is not true," Mr Gomes said.