Sudan's Omar al-Bashir in Malawi: ICC wants answers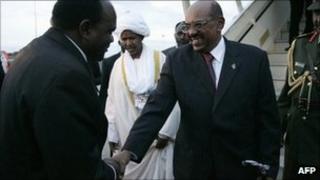 The International Criminal Court has asked Malawi to explain why it failed to arrest Sudan's President Omar al-Bashir during his recent visit.
The ICC has issued an international arrest warrant for Mr Bashir on charges of genocide and war crimes during the Darfur conflict.
Malawi is a signatory to the treaty establishing the ICC but said it was not its "business" to arrest Mr Bashir.
Mr Bashir denies the charges, saying they are politically motivated.
The African Union has lobbied for the arrest warrant to be deferred, accusing the ICC of only investigating alleged war crimes in Africa and arguing that arresting Sudan's president would hamper the search for peace in Darfur.
Mr Bashir was welcomed by a military guard of honour when he arrived in the capital, Lilongwe, for a trade summit last weekend.
The European Union and human rights groups had all urged Malawi to arrest Mr Bashir.
But Information Minister Patricia Kaliati told the BBC's Network Africa programme that Malawi could not detain Mr Bashir as he was attending a heads of state summit of the Common Market for Eastern and Southern Africa (Comesa), a regional trade bloc.
"He's coming for business and we don't have any business to do with the arrest of President Omar," she said.
Kenya and Chad, also signatories to the Rome Statute setting up the ICC, have also allowed Mr Bashir to visit.
The ICC has written to Malawi to ask for its "observations" on Mr Bashir's visit before 11 November.
Malawi's President Bingu wa Mutharika is one of several African leaders to accuse the ICC of only investigating alleged war crimes in Africa and not elsewhere.
Mr Bashir was the first head of state to be indicted by the ICC, which accused him of genocide and war crimes in Darfur.
Some 2.7 million people have fled their homes since the conflict began in Darfur in 2003, and the UN says about 300,000 have died - mostly from disease.
Sudan's government says the conflict has killed about 12,000 people and the number of dead has been exaggerated for political reasons.