Regional media view end of 'tyrant' Gaddafi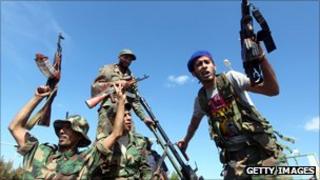 The violent death of Libya's Colonel Muammar Gaddafi dominates front pages and news bulletins in the Middle East and Africa.
Editorials say Col Gaddafi's gruesome end was not surprising, given the repressive history of his regime, but some commentators express disquiet at the "inhumane" and "humiliating" treatment meted out to the former dictator.
A number regret the fact that he was not brought to trial.
There is speculation about whether Col Gaddafi's death will serve to unite Libyans, or spur division among the country's new leaders. Many commentators contemplate the difficulties ahead, and mull the implications of his death for the Arab Spring.
Newspapers in sub-Saharan Africa say his death serves as a warning to other autocratic rulers.
Abd al-Bari Atwan in pan-Arab Al-Quds Al-Arabi
The Libyan people have suffered for more than 40 years from the oppression, tyranny and corruption of Gaddafi's regime. However, what disappointed us is the inhumane manner in which the Libyan leader was treated after he was injured and captured... The execution of Col Gaddafi is the end of a period and the beginning of another and we will not be exaggerating if we say that the coming period may be more difficult because it involves serious challenges.
Editorial in Saudi Arabia's Al-Watan
After many decades of tyranny and injustice, Gaddafi was killed... This event was expected. However, Libya now enters a new and crucial juncture. The first phase of political conflict has ended as its new rulers have to reveal their vision of the next stage... the most important challenge in this stage is to have a specified transitional period that paves the way for holding real and democratic elections.
Yasir al-Za'atra- in Jordan's Al-Dustur
The revolutionaries have wasted a precious chance by not bringing the Colonel to lengthy trials and listening to his new speeches from behind bars... Gaddafi left the Libyan people with no choice but to ask for help after he violently reacted to peaceful protests... We congratulate the Libyan people on their victory.
Editorial in Egypt's Al-Ahram
Curtains were pulled down yesterday on Gaddafi's rule, for a new chapter to begin not only in Libya's history but also in the history of the Arab region and the whole world. His rule was marked by despotism, tyranny and suppression of citizens' rights... The world will definitely be different and better without Gaddafi. We hope his death opens a new page in Libya's history that is characterized by democracy and respect for human rights.
Walid Shiqayr in pan-Arab Al-Hayat
If the current differences obstruct the formation of a new government, and if the tribal differences and the competition between the trends of the political revolution over quotas and power become dominant, and if each faction or trend does not make concessions for the interest of the collective leadership, then Libya will be in chaos as if Gaddafi was still alive and running the state.
Sati Nur-al-Din in Lebanon's Al-Safir
It was not the end of a regime but rather the end of a sick man who was a megalomaniac... The news was not surprising, it was expected. The details of his death were saddening but it was natural the Libyans danced and celebrated to express their joy. However, it was not human or ethical to show Gaddafi's corpse on TV... He should have been sent - a long time ago - to a lunatic asylum instead of being killed.
Tariq al-Hamid in pan-Arab Al-Sharq al-Awsat
When the Libyan revolution broke out, Col Muammar Gaddafi came out and demanded his soldiers catch what he described as rats and called for their removal from the streets. Thereafter his famous saying: [hunt them down] house by house, alley by alley, was repeated [but] the same thing happened to him and in a shocking manner.
Editorial in Saudi Arabia's Al-Jazirah
The humiliating end of Libya's tyrant was expected, like all the tyrants who served their people wrongly... Gaddafi was left to bleed to death as the revolutionaries were trying to reach him to save his life and give him a fair trial... A humiliating death that we hope serves as a lesson to other tyrants who still cling to power, commit crimes and cardinal sins and continue to kill their people to remain in power.
Samir Atallah in pan-Arab Al-Sharq al-Awsat
He should have remained alive and been put on trial so that he could confront the widows and those who lost their children as well as those who did not see their fathers... He should have heard the real views about what the Libyans thought of his rule, his regime and his ideas... It is not justice that he be excused from hearing from the people he treated like slaves and on whose chests he stood for more than 40 years.
Avi Issacharoff in Israel's Ha'aretz
Gaddafi's death heralds the start of a new era in Libya, but it is unclear how it will look… More than ten months have passed since the start of the 'Arab Spring' and in none of the Arab countries visited by the revolution - Egypt, Tunisia and Libya - no stable, strong leadership is being established and while in others, like Yemen and Syria, the old leadership clings to power… For now, the future of these three countries in the post-revolution era does not look better than their past.
Nadav Eyal in Israel's Ma'ariv
What began in Libya as a revolution quickly developed, thanks to the Gaddafi family's passion for blood, into an all-out civil war. In such a war, one fights to the death, and if possible, the dictator's body is dragged through the streets - a cruel attempt to dispel the black charm of his rule. Tribal Libya had no intention of granting Gaddafi gestures of formal justice.
McPhilips Nwachukwu in Nigeria's Vanguard
"His death... provides another critical platform for the assessment of what Gaddafi and dictatorship represent for Africa, Arab and the entire world... The leaderships of Tunisia, Bahrain, Cameroon and Zimbabwe among some other dictatorial regimes ... should learn to leave the stage while the ovation is loudest."
Editorial in Kenya's Daily Nation
"The new leadership must realise that wiping out the Gaddafi regime must not merely be about replacing one dictatorship with another... This also must not be the time for retribution. Accounts of the manner in which Gaddafi was killed after capture signal an inauspicious start for a new leadership that must rise above savage bloodlust."
Opiyo Oloya in Uganda's The New Vision
"The most lasting legacy from the death of Gaddafi is that dictators often begin to believe their own narratives... Were he not completely blinded by his own sense of power and omnipotence, Gaddafi might have realized that the rats and cockroaches were winning, and perhaps, that he needed to negotiate his exit from power, or even arrange exile in a neighbouring nation. He did neither... The upturned face of a dead Gaddafi boils down to one thing only - dictators everywhere should be afraid, very afraid."
BBC Monitoringselects and translates news from radio, television, press, news agencies and the internet from 150 countries in more than 70 languages. It is based in Caversham, UK, and has several bureaux abroad.