Mystery surrounds Gaddafi's end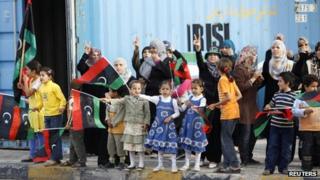 The carnival atmosphere in Misrata after Friday prayers had a distinctly macabre tinge, as hundreds of people flocked to peer into a giant freezer. There were men, women and children. They chanted slogans and waved Libya's new red, black and green flags.
They had come to see the body of Mutassim Gaddafi, the colonel's feared son, his head of internal security, lying naked on the floor of a refrigerated shipping container, his lower half covered by a blanket.
His upper body showed two fresh gunshot wounds - one in the chest and one in the neck.
At first, secrecy surrounded the whereabouts of the body of his father. But later, long queues formed in another residential district of the city, of people wanting to view his corpse.
"There are some Libyans who don't believe that Gaddafi is dead," said Ali Souwan. He had the former dictator laid out in his home on the night of his death.
"So people are coming to my house to see it."
More than 24 hours after their deaths, the corpses of Muammar Gaddafi and other members of his entourage still lie unburied, in contravention of Islamic tradition.
For the people of Misrata, the manner of Col Gaddafi's death matters little, nor does that of his son. What counts is that he has gone, and crucially that Libyans believe he will not be coming back.
Perhaps that explains the delay to the funerals. To give people time to see the bodies for themselves.
Different story
But to the United Nations, the way in which Muammar Gaddafi met his end does matter. The UN Human Rights Commissioner, Navi Pillay, has said she wants a full investigation.
Certainly, as details emerge about his final moments, questions are being raised, to which there are no clear answers.
Col Gaddafi was captured alive, apparently relatively unharmed. But he was set upon by an angry mob. In mobile phone footage, fighters can be heard arguing over whether to kill him.
Several hours later, he was dead, from a bullet wound to the head. No-one knows who fired the shot.
Similar questions are now being asked about Mutassim, who was filmed looking relaxed and smoking shortly after his capture. The bullet-scarred body in the freezer told a different story.
Summary execution?
The BBC has spoken to fighters as well as members of the National Transitional Council (NTC) in Misrata, who have shed more light on the events leading up to the capture of Col Gaddafi.
Anwar Souwan said he was among a select number of fighters who knew that the former dictator was hiding inside his hometown of Sirte several days before his capture.
The information, he said, had come from a captured Mauritanian mercenary - who had been fighting with pro-Gaddafi forces.
But, said Anwar, the fighters decided to keep the fact a secret.
"If we had revealed this secret, anything could have happened," he said. "Gaddafi might have tried to escape dressed as a woman, or even have committed suicide."
Nato also played its part on the day. Several hours before he was captured, French fighter jets fired missiles into a convoy of vehicles containing members of Col Gaddafi's entourage.
The colonel himself was apparently unscathed by the attack, and Nato says it did not know he was in the convoy.
But Fateh Bashagha, the link man for the NTC between Nato and the Misrata rebels, said it was the Nato airstrike that first alerted the rebels to the colonel's attempted escape.
"We got information that a convoy had started moving from Area Number Two (where forces loyal to Col Gaddafi had been concentrated) towards the west side. So our fighters went there to check the area."
That strike may well turn out to be the Alliance's final significant act in the skies over Libya.
People queued to see Col Gaddafi's body until late in the day on Friday. On Saturday, a coroner in Misrata said he would conduct a post-mortem examination.
The National Transitional Council maintains he was killed in crossfire. But as more evidence emerges, the signs point ever more insistently towards summary execution.